Bamboo Forest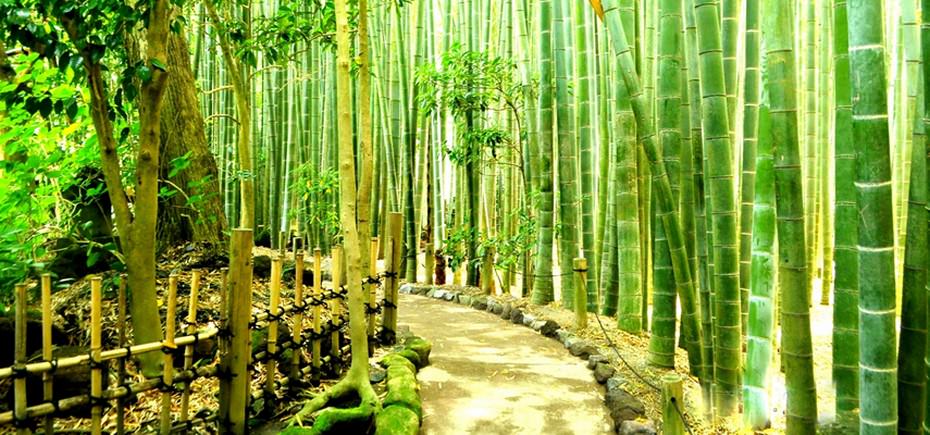 Sagano Bamboo Forest, in Arashiyama area on the outskirts of Kyoto city, popularly referred to as the Kyoto Bamboo forest. There is just one main path through the forest, which leads slowly uphill, and is a very easy walk.
It is very popular among young Japanese girls and couples to put on their kimonos and head to the Bamboo Grove to go for a walk and take photos. So the days where you could have the forest for yourself are long gone! The crowds are worst in the weekends when Japanese day-trippers take over the area. Arashiyama area is particularly popular during the spring cherry blossom and fall color seasons.
Although the beautiful bamboo forest in itself brings in the tourist masses, the distinct rustling sounds in the bamboo have become an attraction in itself! A couple of years ago the Ministry of Environment even put the Sagano Bamboo Forest on its list of "100 Soundscapes of Japan" – a list of everyday noises/sounds intended to encourage locals to stop and enjoy nature's music.
You can rent a bike or stroll the path to enjoy the beautiful sight of sunlight shining through the bamboo grove, casting soft shadows on the path. Especially when the wind blows through, you can see moving images exuding a tranquil feel. That is the true charm of these forests of the east.
You can also take a rickshaw ride from the young Japanese men and go through the bamboo forest path and around Arashiyama if you want.
Strolling though the bamboo forest will cost you nothing. You just have to prepare yourself and your camera to take this wonderful path.
Use these tags to read more related posts and reviews:
---
Let us know if this article was useful for you