Hamilton Pool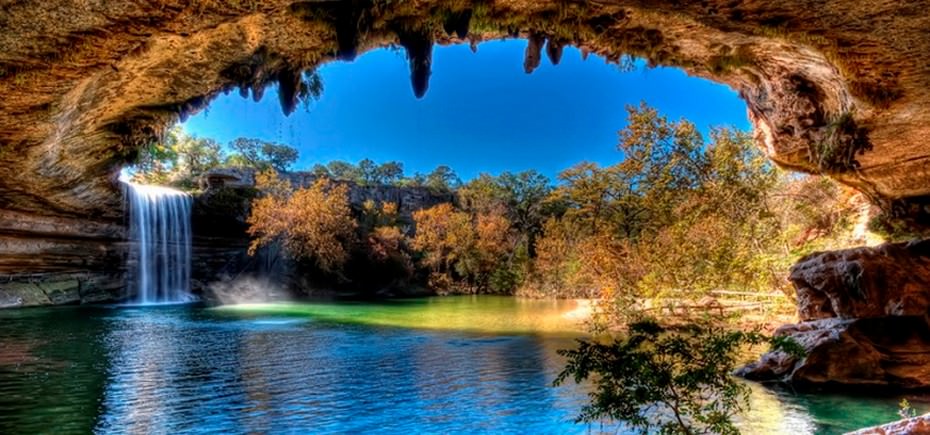 Hamilton Pool Preserve is a natural pool that was created when the dome of an underground river collapsed due to massive erosion thousands of years ago. The pool is located about 23 miles (37 km) west of Austin, Texas off Highway 71. Since the 1960s, Hamilton Pool has been a popular summer swimming spot for Austin visitors and residents. Hamilton Pool Preserve consists of 232 acres (0.94 km2) of protected natural habitat featuring a jade green pool into which a 50-foot (15 m) waterfall flows.
The pool is surrounded by large slabs of limestone that rest by the water's edge; large stalactites grow from the ceiling high above. The ceiling and surrounding cliffs of the grotto are home to moss, maidenhair fern and cliff swallows. The Ashe juniper (cedar) uplands of the preserve are home to the endangered golden-cheeked warbler.
The natural pool and creek are not chemically treated, so water quality is monitored regularly and swimming is occasionally restricted. Hamilton Pool is part of the Balcones Canyonlands Preserve and is a protected environment.
Prior to the 19th century, the Tonkawa and Lipan Apaches lived in the area. In the mid-1860s, Morgan C. Hamilton owned the property now known as Hamilton Pool Preserve. His brother, Andrew Jackson Hamilton, evidently visited the grotto while serving as Texas governor (1865–66). In the 1880s, the Reimers' family, immigrants from Germany, bought the property to raise sheep and cattle. Legend says that their eight-year-old son discovered the collapsed grotto.
Although ranchers might have considered the grotto a safety hazard for their livestock, the Reimers soon realized its value as a recreational area and opened the property for public use. Around the turn of the 20th century, the site did not attract many visitors, but by the 1960s, and on into the 1980s, Hamilton Pool's popularity had increased. The land suffered from sheer numbers and few restrictions.
In addition to impact from the visiting public, cattle, sheep and goats grazed the delicate ecosystem for several decades, resulting in changes to the native vegetation. In 1980, the Texas Parks and Wildlife Department cited Hamilton Pool as the most significant natural area in rural Travis County. In 1985, Travis County purchased 232 acres (0.94 km2) from the Reimers family and implemented an aggressive land management plan to restore Hamilton Pool. Now, as a result of the restoration plan, the ecosystems of Hamilton Pool are recovering.
Ongoing land management practices at Hamilton Pool Preserve include prescribed burns, prairie restoration, endangered species surveys, biological inventories and water quality monitoring.
Use these tags to read more related posts and reviews:
---
Let us know if this article was useful for you