Ocho Rios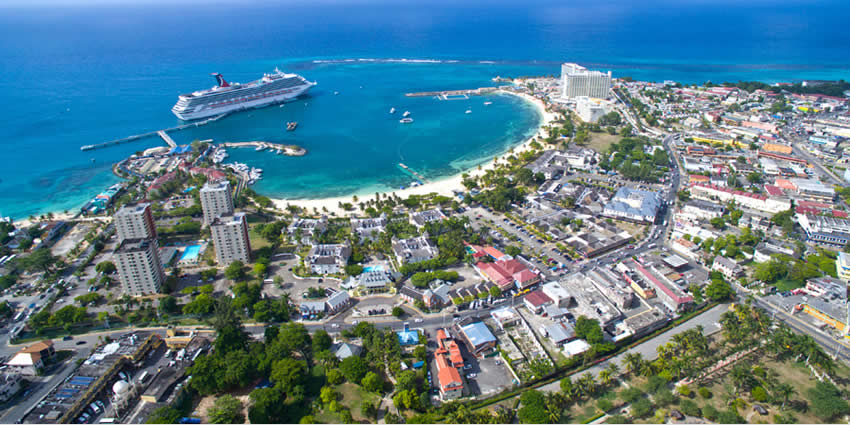 Ocho Rios (Spanish for "Eight Rivers") is a town in the parish of Saint Ann on the north coast of Jamaica. Just outside the city, travelers and residents can visit Columbus Park, where Columbus supposedly first came on land, and see maritime artifacts and Spanish colonial buildings.
It was once a fishing village but now caters to tourists.
It is a port of call for cruise ships as well as for cargo ships loading sugar, limestone, and in the past, bauxite. Scuba diving and other water sports are offered in the town's vicinity.
The name "Ocho Rios" is a possibly misnomer, as there are not currently eight rivers in the area. It could be a British corruption of the original Spanish name "Las Chorreras" ("the waterfalls"), a name given to the village because of the nearby Dunn's River Falls.
The North Coast Highway from the international airport at Montego Bay to Ocho Rios has been improved since 2007 and the journey is now an hour and forty five minutes drive. On 26 August 2011, the Jamaican government announced a $21 million revitalization plan for the resort area. Since March 2016, with the opening of the North-South portion of Highway 2000 (whose North terminus is located at Mammee Bay, a suburb of Ocho Rios), driving and commute times into the nation's capital, Kingston, has gone from over 2 hours to a little under an hour. The opening of this highway has reduced traffic on the old route between Jamaica's two cities (through the town and onto Fern Gully) immensely.
The town has restaurants, and in Margaritaville and Dolphin Cove nightclubs where tourists swim and interact with dolphins. Another major point of interest is Fern Gully. Fern Gully is the result of a 1907 earthquake that destroyed one of the river beds in the area. Fern Gully stretches about 3 miles of great rocky gorge where travellers can see over 540 variety of ferns. In 1907, the British government paved over the destroyed river bed to create what is currently known as The Fern Gully Highway.
Use these tags to read more related posts and reviews:
---
Let us know if this article was useful for you