The longest walkable distance on Earth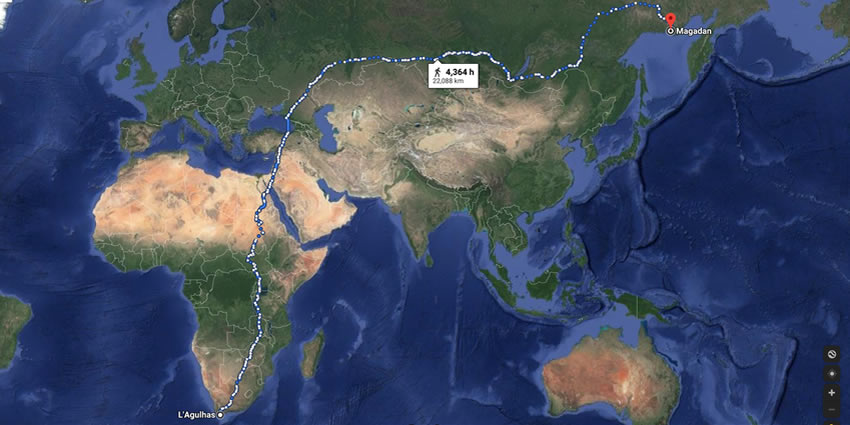 Got three spare years to make the trek?
The suspected longest walking route on Earth is 14,000 miles from Capetown in South Africa to extreme north Russia.
Pilgrimages like the Camino de Santiago or the Appalachian Trail are short by comparison. The real-life walk would be grueling, filled with scary animals and diversely bad weather.
This is the longest walkable single distance on Earth, from South Africa to the far northeastern Russian city of Magadan. At no point would you need to use even a small boat to ferry across a river, because the entire route is made up of roads with bridges.
To go further into northeastern Russia, you'd need to cross through terrain that isn't currently walkable.
This 21,550 km trek will take 4,263 hours. This route includes a ferry and you must cross 17 countries' borders and 6 time zones.
A real person walking this route at a sustainable pace would need about three years to complete the trip.
They'd need to pack a variety of things or sell their stuff and buy new stuff along the way: desert gear, rain gear, and even body armor for the sections through anarchic or war-torn regions like South Sudan.
There's a little bit of everything along the way, from extremely dangerous rainforest animals to near the coldest inhabited place on Earth in Russia.
PS: Remote Bilibino, home to the smallest nuclear plant on Earth, is just a three-hour flight even farther northeast after Magadan.
Use these tags to read more related posts and reviews:
---
Let us know if this article was useful for you