One day in London – Things to do in London in 24 hours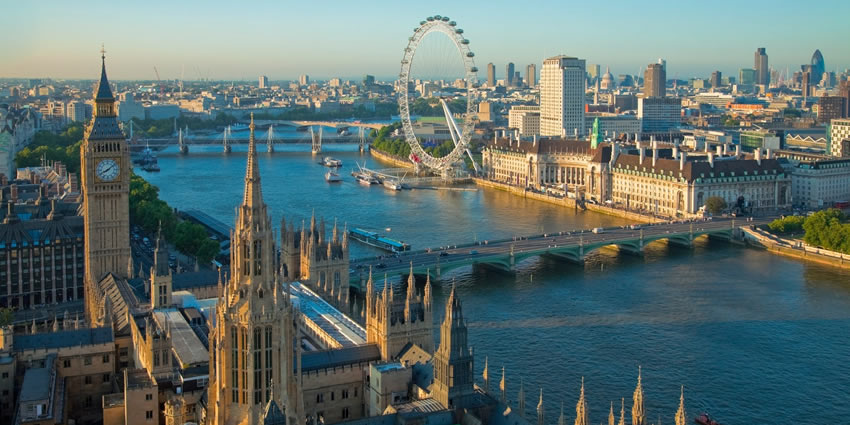 Take a day trip to London and discover the world-famous landmarks, ancient sights, and marvelous shopping and entertainment options available in just a one-day itinerary.
There are virtually endless numbers of attractions catering to every taste and interest. Whether you're traveling domestically or from abroad, London is a fabulous place to dive into the best of the UK and world culture.
Here's a taste of what to expect in this handy one-day London itinerary:
Breakfast in Soho
Stroll through Green Park
Changing of the Guard at Buckingham Palace
Big Ben and Houses of Parliament
London Eye
Lunch on the South Bank
Sightseeing from The Shard
Tower Bridge and the HMS Belfast
Drink at St Katherine Docks
Stroll into the City
Piccadilly Circus at night
Early Morning: Get Started in London
If you're an early bird looking to make the most of a day in London, take a train to one of the main central stations, such as Waterloo, Kings Cross, Euston, or Victoria.
You can then easily take the Tube to Soho, a great spot for breakfast. There you'll find lots of relaxed cafes serving full English breakfasts. Wash breakfast down with a cup of strong tea to kickstart your day trip to London.
Take the time to appreciate London waking up as you fuel yourself for the day, perhaps with a newspaper or book in the British Library if you're at Kings Cross. If you're by Victoria, why not walk through Green Park and have a look at Buckingham Palace?
The Changing of the Guard takes place shortly before 11 am daily. You can also catch a rare tour inside the palace at selected times during the summer. Waterloo places you right next to many popular attractions, including the Houses of Parliament and the London Eye.
Late Morning: London Highlights
Start your sightseeing with the most popular, and arguably some of the best, attractions London has to offer – Big Ben and the Houses of Parliament. Built in 1870, these halls of power offer plenty of opportunities for snap-happy visitors to fill their photo albums.
Next, take a stroll across Westminster Bridge to get fantastic views of the Thames. Take one of the walking tours available to make the most of this beautiful city in a short time.
On the south side of the river, you'll be right next to the London Dungeon and Sea Life London Aquarium. Both attractions could easily take up most of your day, or head along to South Bank and check out the food markets and stalls if you're still peckish after breakfast.
The food market is open every day from 11:00 or 12:00, and the book market is usually open a little earlier.
Early Afternoon: South Bank Sights
You'll no doubt have noted the huge London Eye just before the South Bank. This incredible Ferris wheel provides jaw-dropping views across the city, and you can book fast-track tickets to spend less time queuing for a ride.
The South Bank and Waterloo area is an excellent spot for a relaxed pub lunch. The King's Arms and Anchor & Hope are particularly popular with theatergoers waiting to get into the Young Vic.
If it's still too early for a tipple and food, head to the semi-secluded Waterloo Millennium Green nearby. When the sun's out, break away from the crowds and take in an excellent view of the London Eye. It's also a great afternoon picnic spot.
Close by is the underrated Lambeth Palace, the official London home of the Archbishop of Canterbury. You can book tours of the Palace in advance, but even from the outside, it's well worth a look as an example of striking late-medieval Gothic architecture.
Late Afternoon: Along the Thames
As the day carries on, continue ambling along the riverfront towards London Bridge, which will take around 25 to 30 minutes from Waterloo. Alternatively, hop on the Tube's Jubilee line at Waterloo for a quicker journey.
Step out and you'll be at the foot of the mighty Shard, Europe's tallest skyscraper. Head to 69th to 72nd floors to gaze at London's skyline from the observation deck. There's also a selection of bars and restaurants inside, where you can book a swanky dinner with exhilarating views.
Back on ground level, this neighborhood has several other iconic London landmarks, including Tower Bridge and the Tower of London. Watching the bridge rise for passing boats is an unforgettable London experience, while the Tower offers a glimpse of the magnificent Crown Jewels.
Another fantastic idea nearby is to step aboard HMS Belfast, a famous World War II-era warship turned museum.
Walking its rooms, from the Captain's Deck to the kitchens, mess hall, and medical facility, you'll get a fascinating insight into life in the Royal Navy at the time. It's a unique part of the Thames that makes for interesting photographs as you continue along the river.
Early Evening: Time to Unwind
Continue in the same direction on foot for just 10 minutes from the Tower of London, and you'll reach the attractive St Katharine Docks.
The City is where you'll find another of London's most recognizable skyscrapers, the Gherkin. There are many other high-rises in the area – as the sun begins to set and the lights start twinkling, the district offers a treat for urban architecture lovers.
Late Evening: City Lights
Perhaps it's time for you to head home, but if you're still up for keeping the night going, London's ready for you. Stick around the East End for its trendy nightlife scene.
Alternatively, the area around the Gherkin is well known for its sleek cocktail bars catering to thirsty London office workers.
Afterward, head to Piccadilly Circus and you'll be on Haymarket, right at the heart of London's Theatreland. This is a popular place to visit at night for the huge neon lights and video displays, making for stunning photographs.
The Tube now runs for 24 hours on selected Tube line segments on Friday and Saturday nights, making getting back to your hotel, or the train station first thing in the morning, much easier.
London is truly an international city, packed with incredible sights. Yet, many of the best landmarks are surprisingly easy to walk between. With this guide, it's easy to take in many notable attractions all in one day.
If you miss out on other local icons, such as Camden Market and the British Museum, one day trip to London won't be enough.
Come for another and lose yourself again in the capital's wonders!
Use these tags to read more related posts and reviews:
---
Let us know if this article was useful for you