One day in Madrid – Things to do in Madrid in 24 hours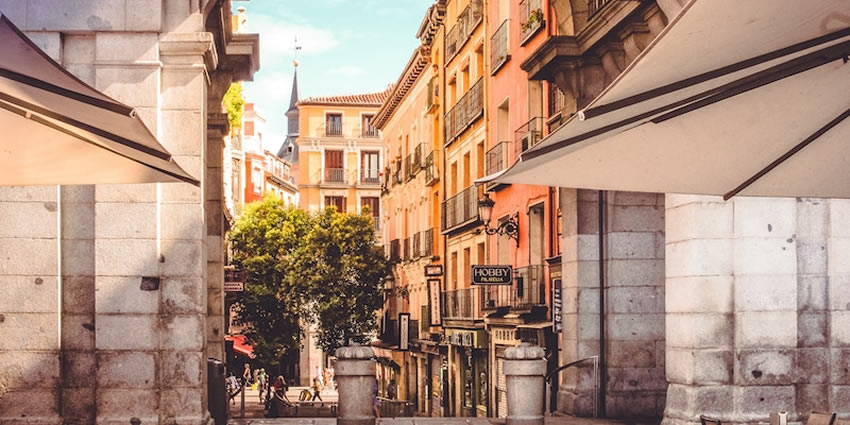 The Perfect One Day Itinerary in Madrid
Madrid it's a very unique European capital, it has a very specific character and a very special feeling, ones that are sometimes difficult to translate to visitors.
So I thought and I thought hard. If you only have 24 hours in Madrid, better spend your day not waiting in lines or rushing in and out of museums. If you want to taste Madrid's culture, wander its streets and feel its one-of-a-kind charm.
Start off your day like a real Spaniard by treating yourself to a helping of "tosta con tomate" (toast with tomato"). Give this typical Spanish breakfast a try! Sprinkled with a little salt and olive oil, this will turn into one of your favorite morning meals! You can find toast with tomato at almost any Spanish restaurant.
Alongside your toast, order a "café con leche" ("coffee with milk") and a glass of "zumo de naranja natural" ("fresh-squeezed orange juice") for the true Spanish experience.
This small, light breakfast, may not hold you over for very long, but don't worry, the Spanish "merienda" ("afternoon snack") and lunch, the biggest meal of the day, are just around the corner.
Explore One of Madrid's Unique Barrios
One of the best things to do in Madrid is simply wandering, or as many madrileños put it, 'dar un paseo' (go for a walk), this is one of the best ways to really get to know Madrid.
Allow yourself to let go a little bit and let your curiosity lead you. Pop in and out of corner shops. Sit in a plaza, admire the many residential balconies overflowing with vibrant blossoms. Walk around and get acquainted with the real Madrid.
Some of barrios or neighborhoods outside of the touristy center are:
Malasaña– Fashionable and alternative hipster neighborhood.
Chueca– Madrid's 'gay' neighborhood. Very trendy, inviting and charming!
La Latina– Traditional Madrid. Tapas bars, old buildings, winding streets and authentic feel.
Las Letras– This neighborhood is directly in the center, but not too touristy. Filled to the brim with history, especially literature. Famous literary quotes and colorful bohemian art line the cobblestone streets.
Salamanca– A posh luxurious neighborhood with fancy restaurants and designer shopping.
Lavapies-Extremely diverse urban neighborhood with international roots
Get a taste of one of Madrid's Markets
One of the best ways to familiarize me with any city is to taste it. Just in time for Spain's "merienda" ("afternoon snack"), take some time to pass through one of Madrid's many colorful markets.
There are traditional markets all over Madrid boasting stalls of authentic Spanish delicacies including jamón serrano, Spanish tortilla, patatas bravas, and varieties of "pinchos" and "tapas" alike, as well as specialized international stands.
Depending on which barrio you previously chose to explore, find the corresponding market below:
Mercado San Miguel– Closest to Las Letras and Lavapies, Plaza San Miguel
Mercado San Anton– Closest to Chueca, Calle de Augusto Figueroa, 24
Mercado Idelfonso– Closest to Malasaña, Calle Fuencarral, 57
Platea– Closest to Salamanca, Calle de Goya, 5-7
Get a look at Madrid from Above
"De Madrid al cielo". This quote literally meaning "from Madrid to heaven" claims that once you've seen Madrid, the next best thing is that idealistic euphoria we all dream of.
Gazing down at Madrid from above, well there's not much else like it. This city is known for its picturesque bright blue canopy sprinkled with fluffy cotton clouds. Its low-lying buildings even allow us to take in the Sierra de Guadarrama mountains, truly yet ironically a heavenly backdrop.
Check out these rooftops:
Círculo de Bellas Artes "Tartan Roof," Calle de Alcalá, 42
Terrace at Room Mate Hotel Oscar, Plaza de Vázquez de Mella, 12
Terrace at Hotel de Las Letras, Calle Gran Vía, 11
9th floor of Corte Inglés in Callao, Plaza de Callao, 2
Palacio de Cibeles, Plaza Cibeles, 1
*Be sure to check opening times as most rooftops in Madrid are seasonal.
Two options for Lunch
You may be thinking 14:00 is a little late for lunch, but here in Spain, this is the norm. Lunch in Madrid is usually served anywhere between 14:00-17:00 and is the largest meal of the day.
Whichever option you choose, take your time. Savor every bite. Crack a bottle of Spain's finest.
Option one: Sit down for a Spanish Menú
The Spanish "menú del día" is not the typical menu for English speakers to immediately think of. Instead, this "menu of the day" usually consists of a three-course prix-fixe meal including a "primero" ("starter") a "segundo" ("the main dish"), and a "postre" ("dessert"), often accompanied by your choice of beverage and bread.
These menús are usually only offered during lunchtime on weekdays. When it comes to Spanish dining, this is the best quality meal you will find for an amazing value and will cost anywhere from 8-15 Euros.
Option two: A Tapas Crawl
Another very typical Spanish option, although not as common in Madrid, is to do a tapas crawl. Unlike in the South of Spain, tapas are not usually free and are paid for in Madrid. Still, that doesn't mean you can't have the typical Spanish tapas experience.
The most famous street for trying these tasty little plates is just outside of the center on Calle Cava Baja in the La Latina neighborhood of Madrid. This little street has the most bars per square meter than any other street in the city!
Walking tour of Madrid
After lunch is the perfect time to take on a walking tour.
Madrid is a city with many things to do, but there are also many things to see that don't necessarily have to be 'done.' You can very much enjoy yourself by simply exploring Madrid's streets and taking in the sights from afar, rather than paying to enter them!
Visit well-known places like Plaza Mayor, Royal Palace and Puerta del Sol, Plaza Cibeles and park Retiro.
During your walking tour be sure to stop for your second Spanish "merienda" ("afternoon snack") of the day. This will add some extra fuel, so you're able to make it to Spain's late dinner!
Retiro
Retiro Park is one of the most well-known parks in Madrid. Retiro Park literally meaning "Park of the Pleasant Retreat," was once hogged by the royal family, but is now thankfully open to the public.
Surrounded by luscious open greenery you'll completely forget that you are smack in the middle of the busy Spanish capital. Home to alluring galleries, extraordinary monuments and sculptures, a tranquil manmade lake, an exquisite crystal palace, intricate gardens, and a variety of fountains, you could explore Retiro for hours.
Things to do/see in Retiro:
Go see the Palacio de Cristal or Crystal Palace
Take out a rowboat in Retiro Pond
Check out the ever-changing temporary exhibitions in Palacio de Velázquez
Gran Vía
Calle Gran Vía is Madrid's main vein connecting many popular neighborhoods of the city and running directly through the center. It is known by some as Spain's own Broadway and is home to grand hotels, theaters, restaurants, brand-name stores, and a lively nightlife scene.
Gran Vía truly has something for everyone! Take a stroll down this lengthy luxurious street admiring elegant 20th-century architecture while window shopping (or actually shopping) and people watching!
If you're looking to shop you'll find a range of stores suiting all tastes and budgets. Keep an eye out for popular Spanish clothing brands such as Springfield, Pull & Bear, Bershka, Sfera, Blanco, Stradivarius, Massimo Dutti, and Desigual.
Look for the colorful Schweppes logo and you've found Plaza Callao, a landmark of the city and sometimes referred to as the "Times Square" of Madrid. Callao sits right at the heart of Madrid's cinematic and theatrical scene, along the infamous Gran Vía.
Templo Sunset
A stunning sight that should absolutely not be missed during a trip to Madrid is the Templo de Debod Sunset.
Crowds gather to the railings in front of the temples to bid the sun goodbye as it creeps its way over the Madrid horizon. The sunset is an incredible vision, about 20 to 30 minutes after the sun's disappearance when the crowds begin to disperse and dusk has prepared to fall.
Just before the sun has truly kissed the sky goodnight, you will encounter a captivating scene- the reflection of the temples in the surrounding pool. In the inducing dark of night, the water appears as a thin sheet of glass mirroring the Egyptian structures before you. Truly breathtaking.
Note: Don't forget to check the time of the sunset and adjust the schedule accordingly!!
Use these tags to read more related posts and reviews:
---
Let us know if this article was useful for you