One day in Paris – Things to do in Paris in 24 hours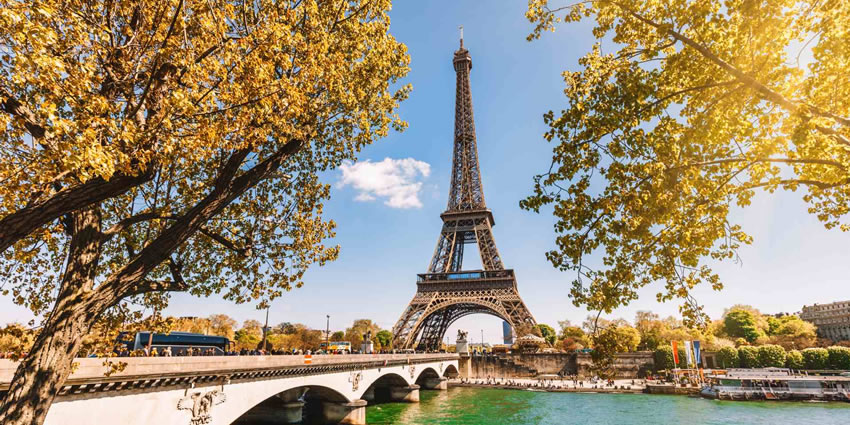 Planning on spending just one day in Paris? Sure, it's not very long.
Trying to see the best of Paris in one day is no easy task: the French Capital is an enormous, layered, and deeply complex city with something interesting to visit in every district Paris.
How to fall in love with Paris in just one day? With a little advance planning, though, you'll be surprised at just how many Paris highlights and top monuments you can cover with just one day in Paris!
This post is going to help you plan your Paris 1 day-itinerary. This tried-and-true Paris in one-day itinerary goes through well-known sights like Notre Dame or the Eiffel Tower to some of our favorite sights in Paris.
You will fall in love with this magnificent city–and hopefully, make sure that you leave already scheming about how you can return.
This one-day in Paris itinerary is not a leisurely itinerary –that's just not an option with only one day in Paris – so be sure to take a good breakfast and wear your better walking shoes!
Paris in one-day itinerary – One-day proposal in Paris
Here's a quick overview of what this plan has you doing during one day in Paris, for quick reference
Notre Dame (from outside)
Cité and Sainte Chapelle
A stroll along the Seine
The Latin Quarter
Saint-Germain-des-Près
Climb up the Eiffel Tower
Night Seine River Cruise with Dinner
Now, let's see how that looks in our detailed guide to what to do in Paris for a day.
Below is a detailed guide to what to do in Paris for a day in the order that makes the most sense in terms of getting around and minimizing transport. Ideally, you'll start this one-day in Paris itinerary as soon as possible, and keep going until you've seen everything!
1. START AT NOTRE DAME
What better spot to start your one day in Paris than at Notre Dame, one of the most recognizable structures in the city?
Admire the imposing gothic structure of Notre Dame Cathedral. Built-in the 13th century, this magnificent edifice has recently survived a devastating fire, yet it is still standing proudly as the symbol of the city.
Admire its main façade with the huge rose window which is a dedication to Our Lady of Paris. The 28 sculptures below Notre Dame represent the kings of Judah and Israel, the ancestors of Christ, and just like the real King, they lost their heads during the French Revolution!
2. EXPLORE ILE DE LA CITÉ (AND VISIT THE SAINTE CHAPELLE)
Once the epicenter of political, religious, and social life, it's on Ile-de-la-Cité, the small island in the middle of the Seine River. It is here where the first Royal Palace stood as well as the city's main religious and institutional buildings.
As such, it is not surprising that some of the best places to see in Paris in one day are located on Ile-de-la-Cité.
From Notre Dame, enjoy a short stroll through the charming Flower Market to Sainte Chapelle. Built in the 13th century by King Saint Louis, 80% of the walls are covered by remarkable colored glass windows, it is amazing!
A visit to the Sainte Chapelle does not take too much time and we definitely recommend it as long as you buy skip-the-line tickets in advance  – you don't want to waste half of your 1 day in Paris waiting in line!
Your last stop is to the Conciergerie, built as a medieval palace, but most famous as the prison and last home of Queen Marie Antoinette during the French Revolution.
If you're making a good time, visiting the Conciergerie is also highly recommended but again, be sure to buy your skip-the-line ticket in advance to ensure that you don't waste a moment of your one day in Paris by standing in line.
3. WALK ALONG THE SEINE TO THE LOUVRE AND THE TUILERIES GARDEN
It takes a little under half an hour to stroll from Cité to the Tuileries Gardens, but there's plenty to admire along the way: definitely be sure to take note of Pont Neuf (the oldest bridge in Paris), Pont des Arts, and Les Invalides and the Eiffel Tower on the left bank.
The Louvre Palace was initially built as a royal palace for the Kings of France until King Louis XIV decided to move with his court to Versailles. Today the Louvre Museum is one of the world's most visited museums and certainly one of the most iconic places to see in Paris.
While this Paris 1 day itinerary does not consider a visit to the Louvre Museum, it is well worth getting close to admire Pei's glass pyramid, one of the favorite photo spots in Paris.
4. STROLL ALONG THE TUILERIES GARDEN
Then you can stroll around the Tuileries Garden, the oldest public park in Paris and also one of the most beautiful.
Designed by André Le Notre, the landscape designer who also designed the Gardens of Versailles, it was the Tuileries Palace's backyard until this was burned by the Paris Commune in 1871.
Stop for a coffee in the sun and perhaps a quick eat at one of the guinguettes inside the park.
5. EXPLORE THE LATIN QUARTER
At Palais Royal /Musée du Louvre you can take the metro Line 7 to the Latin Quarter and stop at Place Monge station.
While this area is known as the center of university life in Paris, it's also where the Roman City (IC AD) was born.
It is believed that Lutetia's Roman Forum, the center of religious and civil life during Roman times, was located at current rue Soufflot, while today's rue Saint Jacques was one of the two main streets in Roman times.
Today, it is possible to visit Les Arènes de Lutèce for free, a Roman theatre that was constructed in the 1st century AD and was where people came to watch gladiatorial combats.
In the area, there are also the Roman Baths, today part of the Cluny Museum, but they can be seen from Boulevard Saint Michel without entering the museum.
6. DUCK INSIDE THE PANTHÉON
The Panthéon is a church-turned-temple dedicated to "Les Grands Hommes".
These eminent personalities who shaped France's national identity are interred in the crypt and a permanent exhibition gives details about their lives and works. If you decide to visit the Panthéon you will also see Foucault's pendulum with which Léon Foucault demonstrated the Earth's rotation.
The Pantheon sits inside the beautiful Place du Panthéon, and while you're there, be sure to take a few moments to admire the piazza itself, the Church Saint Étienne du Mont, and the view over the Luxembourg Gardens from rue Soufflot.
7. OR PAY A VISIT TO PLACE DE LA CONTRESCARPE
If you are not that interested in monuments, pay a visit to Place de la Contrescarpe instead.
This lively square may be touristic, but it's also beautiful, bustling, and worth stopping by during your one day in Paris. This square is crossed by rue Mouffetard, a street food where you can find everything from fresh fruits, vegetables, cheese, and wine.
Fans of Ernest Hemingway may want to have a look at 74 rue Cardinal Lemoine, one of the streets ending at Place de la Contrescarpe, where the Hemingways rented their first apartment in Paris.
It's not all hard work and sightseeing, you know. By now you must be hungry and there are plenty of bistros and restaurants at the square or nearby to taste good French food. Do your research in advance to avoid wasting time looking for a good place to eat.
8. MAKE YOUR WAY TO SAINT-GERMAIN-DES-PRÉS
After lunch, this one-day in Paris itinerary takes you to Saint-Germain-des-Prés, one of the most picturesque neighborhoods of Paris. This is a gorgeous area to explore, with its cobbled streets, art galleries, and pretty cafes.
You can have a quick look at Saint-Germain-des-Prés Church, the beating heart of this neighborhood. Completed in 558, this beautiful church is the only remaining Romanesque building in Paris.
Then, in streets like rue de Buci, on the other side of Boulevard Saint-Germain, there are plenty of nice cafes and bars well worth a stop for a late coffee or an early aperitif with some people watching.
9. CLIMB UP THE EIFFEL TOWER
Before sunset, head to Champ de Mars to climb up the Eiffel Tower, the most iconic monument in Paris.  Upstairs, there's a permanent exhibition to learn about its history plus you have an amazing view of Paris from above.
This is a fantastic place to watch the sunset in Paris, but be sure to secure the date and time slot to visit the Eiffel Tower asap as tickets to the summit sold out pretty fast.
The Eiffel Tower website sells tickets up to 2 months in advance and they are not refundable. With Get Your Guide, instead, you can book your Eiffel Tower summit tickets more than two months in advance plus it is possible to cancel and get a full refund if there's any problem.
10. END YOUR 1 DAY IN PARIS WITH A SEINE RIVER NIGHT CRUISE WITH DINNER
After your Eiffel Tower experience, end your one day in Paris in style with a night cruise with dinner down the Seine River.  It's a nice way to see Paris from the water, and prices for the river cruises are pretty good value.
Most of the boat tours start at the foot of the Eiffel Tower and you will be spoilt for the choice, just make sure to check all the Seine Boat Tour options and book your favorite one beforehand.
During this cruise, you will see many of the most famous Paris landmarks, magically illuminated, including the Eiffel Tower, the Musée d'Orsay, the Conciergerie, and more, while having a typical French dinner and a glass of champagne.
And there you have a comprehensive itinerary for one day in Paris. Follow this Paris in one-day itinerary step by step or change it up to suit your own individual preferences.
If you've long dreamed of visiting the Louvre Museum you should absolutely go! Structuring a Paris in one day visit is highly personal, so if that's the sight you can't live without, go ahead and swap a visit to the Louvre Museum for strolling the Latin Quarter.
After the Louvre heads to Saint-Germain-des-Près and follows the rest of Paris in a 1-day itinerary.
For the Louvre visit, and considering that you only have one day in Paris, we suggest limiting your visit to 2 hours or less.
You can book this top-rated Louvre Highlights guided tour which lasts 2 hours and you are sure not to get lost amongst paintings and sculptures. If you prefer a self-guided tour, this article shows how to get the most out of the Louvre in 2 hours or less.
If you'd prefer to have a guide for all or part of your one day in Paris, who can share with you some of the history of this city as well as more local knowledge and insights, then we can recommend this Paris Highlights full-day tour.
This tour is a great way to see Paris in a short amount of time: do more in six hours than most people do in three days with this fun-filled tour.
Another alternative is to book this 2.5-hour Cité Walking tour for a great introduction to Paris and its medieval monuments. Then, you can follow the rest of Paris in a one-day itinerary at your own pace.
Use these tags to read more related posts and reviews:
---
Let us know if this article was useful for you