Rabida Red Sand Beach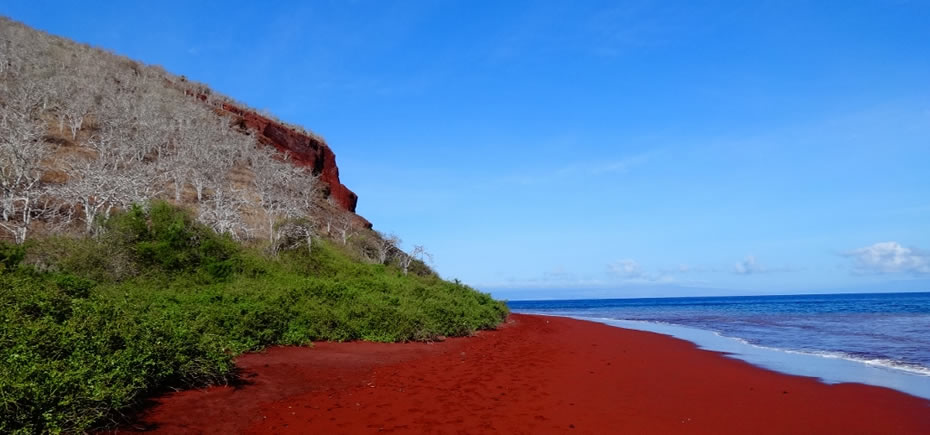 Rabida Island also known as Jervis Island is one of the most volcanically varied islands of this archipelago. Geologically consisting of eroded hills and lava emitted from spatter cones that have resulted in Island's striking colors. A visit begins with a wet landing on the deep maroon-colored northern beach.
Rabida Island has an area of 4.9 km2 and a maximum altitude of 367 meters. The high amount of iron contained in the lava at Rabida gives a distinctive red color to the sand of its beach. Rabida has a distinctive look, with its reddish beach, cliffs, and steep slopes of volcanic cinders.
Marine iguanas and sea lions are often seen resting in the shade of the caves nearby. Behind the beach is the salt brush home where the brown pelicans make their nests. Galapagos Rabida Island may be the only opportunity visitors have to see pelicans nesting up close. On the cliffs above the pelicans, blue-footed and masked boobies can be seen.
A noisy colony of sea lions lives on the beach, and a short trail inland is a good place to observe land birds such as finches, doves, yellow warblers, and mockingbirds.
Hidden behind a narrow strip of the green saltbush is a briny lagoon where flamingos may be found, sometimes even nesting. These large pink birds live in shallow saltwater lagoons. Feeding 7-12 hours a day primarily on the pink shrimp larva and water boatman that give them their color.
Snorkeling along the rocks at the east end of the beach may reveal many of the reef fish common to these waters and the ever-present sea lions.
Continuing up the rocky red cliffs a short 15-20 minute walk leads to a cliff overhang with a fantastic view of the cove with the ocean, lagoon, and scarlet cliffs.
Use these tags to read more related posts and reviews:
---
Let us know if this article was useful for you