Anguilla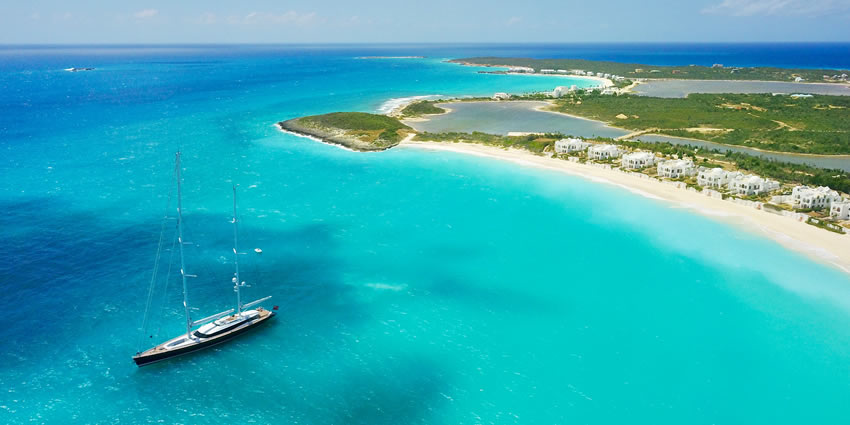 Anguilla is a British overseas territory in the Caribbean. It is one of the most northerly of the Leeward Islands in the Lesser Antilles, lying east of Puerto Rico and the Virgin Islands and directly north of Saint Martin.
The territory consists of the main island of Anguilla, approximately 26 km long by 4.8 km wide at its widest point, together with a number of much smaller islands and cays with no permanent population. The island's capital is The Valley. The total land area of the territory is 91 km2, with a population of approximately 14,764 (2016 estimate).
Anguilla has become a popular tax haven, having no capital gains, estate, profit, sales, or corporate taxes. In April 2011, faced with a mounting deficit, it introduced a 3% "Interim Stabilisation Levy", Anguilla's first form of income tax. Anguilla also has a 0.75% property tax.
Apart from the main island of Anguilla itself, the territory includes a number of other smaller islands and cays, mostly tiny and uninhabited. Some of these are:
Anguillita
Dog Island
Prickly Pear Cays
Scrub Island
Seal Island
Sombrero, also known as Hat Island
Sandy Island
Anguilla is a flat, low-lying island of coral and limestone in the Caribbean Sea, east of Puerto Rico and the Virgin Islands. It is directly north of Saint Martin, separated from that island by the Anguilla Channel. The soil is generally thin and poor, supporting scrub, tropical and forest vegetation.
Anguilla is noted for its spectacular and ecologically important coral reefs and beaches.
Anguilla has a volcanic origin and has been submerged repeatedly from climate change.
Anguilla has a habitat for the Cuban tree frogs. The red-footed tortoise is a species of tortoise found here, it somehow came from South America. Hurricanes led to over-water dispersal for the green iguanas to colonize Anguilla. All three animals are introduced.
Five species of bats are known in the literature from Anguilla – the threatened insular single leaf bat, the Antillean fruit-eating bat, the Jamaican fruit bat, the Mexican funnel-eared bat, and the velvety free-tailed bat.
The majority of residents are black, the descendants of slaves transported from Africa. Minorities include whites at 3.74% and people of mixed race at 4.65% (figures from 2001 census).
72% of the population is Anguillian while 28% is non-Anguillian (2001 census). Of the non-Anguillian population, many are citizens of the United States, United Kingdom, St Kitts & Nevis, the Dominican Republic, Jamaica and Nigeria.
2006 and 2007 saw an influx of large numbers of Chinese, Indian and Mexican workers, brought in as labour for major tourist developments due to the local population not being large enough to support the labour requirements.
Languages
Today most people in Anguilla speak a British-influenced variety of standard English.
Other languages are also spoken on the island, including varieties of Spanish, Chinese and the languages of other immigrants.
However, the most common language other than Standard English is the island's own English-lexifier Creole language (not to be confused with Antillean Creole ('French Creole'), spoken in French islands such as Martinique and Guadeloupe).
It is referred to locally by terms such as "dialect" (pronounced "dialek"), Anguilla Talk or "Anguillian". It has its main roots in early varieties of English and West African languages and is similar to the dialects spoken in English-speaking islands throughout the Eastern Caribbean, in terms of its structural features and to the extent of being considered one single language.
Linguists who are interested in the origins of Anguillian and other Caribbean Creoles point out that some of its grammatical features can be traced to African languages while others can be traced to European languages. Three areas have been identified as significant for the identification of the linguistic origins of those forced migrants who arrived before 1710: the Gold Coast, the Slave Coast and the Windward Coast.
Sociohistorical information from Anguilla's archives suggest that Africans and Europeans formed two distinct, but perhaps overlapping speech communities in the early phases of the island's colonisation. "Anguillian" is believed to have emerged as the language of the masses as time passed, slavery was abolished and locals began to see themselves as "belonging" to Anguillian society.
The name Anguilla is from the Italian anguilla meaning "eel" (in turn from the Latin anguilla, diminutive of anguis, snake) in reference to the island's shape.
It is believed by most sources to have been named by Christopher Columbus.
For similar reasons, it was also known as Snake or Snake Island.
Anguilla was first settled by Indigenous Amerindian peoples who migrated from South America.
The earliest Native American artifacts found on Anguilla have been dated to around 1300 BC; remains of settlements date from AD 600.
The Arawak name for the island seems to have been Malliouhana. The date of European colonization is uncertain: some sources claim that Columbus sighted the island during his second voyage in 1493, while others state that the island's first European explorer was the French Huguenot nobleman and merchant mariner René Goulaine de Laudonnière in 1564.
The Dutch West India Company established a fort on the island in 1631. The Dutch withdrew after the destruction of the fort by Spanish forces in 1633.
Traditional accounts state that Anguilla was first colonized by English settlers from Saint Kitts beginning in 1650. In this early colonial period, however, Anguilla sometimes served as a place of refuge and recent scholarship focused on Anguilla has placed greater significance on other Europeans and creoles migrating from St. Christopher, Barbados, Nevis and Antigua. The French temporarily took over the island in 1666 but returned it to English control under the terms of the Treaty of Breda the next year.
It is likely that some of these early Europeans brought enslaved Africans with them. Historians confirm that African slaves lived in the region in the early 17th century. For example, Africans from Senegal lived in St. Christopher in 1626. By 1672 a slave depot existed on the island of Nevis, serving the Leeward Islands. While the time of African arrival in Anguilla is difficult to place precisely, archival evidence indicates a substantial African presence of at least 100 enslaved people by 1683. These seem to have come from Central Africa as well as West Africa.
Attempts by the French to capture the island during the War of Austrian Succession (1745) and the Napoleonic Wars (1796) ended in failure.
During the early colonial period, Anguilla was administered by the British through Antigua; in 1825, it was placed under the administrative control of nearby Saint Kitts.
In 1967, Britain granted Saint Kitts and Nevis full internal autonomy. Anguilla was also incorporated into the new unified dependency, named Saint Christopher-Nevis-Anguilla, against the wishes of many Anguillians. This led to two Anguillian Revolutions in 1967 and 1969 headed by Atlin Harrigan and Ronald Webster. The island briefly operated as the independent "Republic of Anguilla". The goal of the revolution was not independence per se, but rather independence from Saint Kitts and Nevis and a return to being a British colony. British authority was fully restored in July 1971; in 1980, Anguilla was finally allowed to secede from Saint Kitts and Nevis and become a separate British Crown colony (now a British overseas territory).
The Anguilla National Trust (ANT) was established in 1988 and opened its offices in 1993 charged with the responsibility of preserving the heritage of the island, including its cultural heritage. The Trust has programs encouraging Anguillian writers and the preservation of the island's history.
In 2015, Where I See The Sun – Contemporary Poetry in Anguilla A New Anthology by Lasana M. Sekou was published by House of Nehesi Publishers.
Among the forty-three poets in the collection are Rita Celestine-Carty, Bankie Banx, John T. Harrigan, Patricia J. Adams, Fabian Fahie, Dr. Oluwakemi Linda Banks, and Reuel Ben Lewi.
The island's cultural history begins with the Taino Native Americans. Artifacts have been found around the island, telling of life before European settlers arrived by the Arawak and Carib peoples.
As throughout the Caribbean, holidays are a cultural fixture. Anguilla's most important holidays are of historic as much as cultural importance – particularly the anniversary of the emancipation (previously August Monday in the Park), celebrated as the Summer Festival. British festivities, such as the Queen's Birthday, are also celebrated.
Music
The island's burgeoning musical community made history with the recording of Sounds of Anguilla (Volume 1), the first album ever composed solely of artists from a single Caribbean island representing multiple musical genres: pop, reggae, hip-hop, soca music and R&B. The album, featuring Anguillian musicians such as Bankie Banx, Amalia Watty, True Intentions and Gerswin Lake and The Parables, was released on iTunes in June 2015.
Anguillian cuisine is influenced by the native Caribbean, African, Spanish, French and English cuisines. Seafood is abundant, including prawns, shrimp, crab, spiny lobster, conch, mahi-mahi, red snapper, marlin and grouper. Salt cod is a staple food eaten on its own and used in stews, casseroles and soups. Livestock is limited due to the small size of the island and people there use poultry, pork, goat and mutton, along with imported beef. Goat is the most commonly eaten meat, used in a variety of dishes.
A significant amount of the island's produce is imported due to limited land suitable for agriculture production; much of the soil is sandy and infertile. Among the agriculture produced in Anguilla includes tomatoes, peppers, limes and other citrus fruits, onion, garlic, squash, pigeon peas and callaloo. Starch staple foods include imported rice and other foods that are imported or locally grown, including yams, sweet potatoes and breadfruit.
Due to its internationally recognized culinary community, the island has enjoyed a reputation as "the culinary capital of the Caribbean". This reputation was reinforced with the publication of the (WE) Are Anguilla Cookbook, a guide to the cuisine of Anguilla featuring emerging and established local chefs, who share both their signature dishes and personal anecdotes regarding the island's epicurean culture. A publishing contract was secured by The Britto Agency, which had conceived the idea for the book itself.
Air
Anguilla is served by Clayton J. Lloyd International Airport (prior to 4 July 2010 known as Wallblake Airport).
The primary runway at the airport is 5,462 feet (1,665 m) in length and can accommodate moderate-sized aircraft. Services connect to various other Caribbean islands via regional carrier LIAT, local charter airlines and others. Although there are no direct scheduled flights to or from continental America or Europe, Tradewind Aviation and Cape Air provide scheduled air service to San Juan, Puerto Rico. The airport can handle large narrow-body jets such as the Boeing 727, Boeing 737 and Boeing 757.
Road
Aside from taxis, there is no public transport on the island. Cars drive on the left.
Boat
There are regular ferries from Saint Martin to Anguilla. It is a 20-minute crossing from Marigot, St. Martin to Blowing Point, Anguilla. Ferries commence service from 7:00 am. There is also a charter service, from Blowing Point, Anguilla to Princess Juliana Airport to make travel easier. This way of travel is the most common method of transport between Anguilla and St. Martin or St. Maarten.
Use these tags to read more related posts and reviews:
---
Let us know if this article was useful for you