Coober Pedy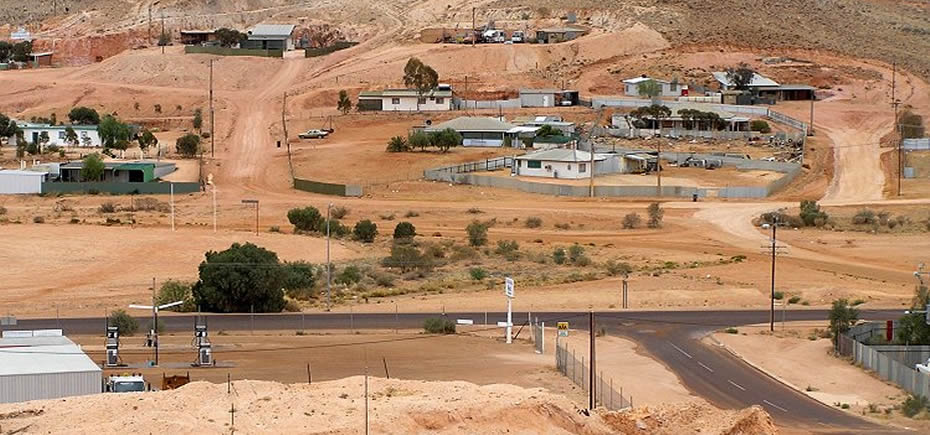 Coober Pedy is a very small town in northern South Australia, 846 km north of Adelaide on the Stuart Highway.
Coober Pedy has become a popular stopover point and tourist destination, especially since 1987, when the sealing of the Stuart Highway was completed.
According to the 2011 census, its population was 1,695.
Coober Pedy is renowned for its below-ground residences, called "dugouts", which are built in this fashion due to the scorching daytime heat.
The harsh summer desert temperatures mean that many residents prefer to live in caves bored into the hillsides ("dugouts").
A standard three-bedroom cave home with lounge, kitchen, and bathroom can be excavated out of the rock in the hillside for a similar price to building a house on the surface. However, dugouts remain at a constant temperature, while surface buildings need air conditioning, especially during the summer months, when temperatures often exceed 40 °C.
Visitors attractions in Coober Pedy include the mines, the graveyard and the underground churches (the Serbian Orthodox Church and the Catholic Church).
The first tree ever seen in the town was welded together from scrap iron. It still sits on a hilltop overlooking the town.
The town is sometimes referred to as the "opal capital of the world" because of the number of precious opals that are mined there.
Opal was found in Coober Pedy on 1 February 1915 and since then the town has been supplying most of the world's gem-quality opal.
Coober Pedy today relies as much on tourism as the opal mining industry to provide the community with employment and sustainability. Coober Pedy has over seventy opal fields and is the largest opal mining area in the world.
The relative humidity rarely gets over 20% on these hot days, and the skies are usually cloud-free. The average maximum temperature is 30–32 °C, but it can get quite cool in the winter.
The name "Coober Pedy" comes from the local Aboriginal term kupa-piti, which means "boys' waterhole".
Aboriginal people have a long-standing connection with the area.
The first European explorer to pass near the site of Coober Pedy was Scottish-born John McDouall Stuart in 1858, but the town was not established until after 1915 when opal was discovered by Wille Hutchison.
Miners first moved in about 1916.
By 1999, there were more than 250,000 mine shaft entrances in the area and a law discouraged large-scale mining by allowing each prospector a 19.8 square-meters claim.
Use these tags to read more related posts and reviews:
---
Let us know if this article was useful for you