The most visited cities in Europe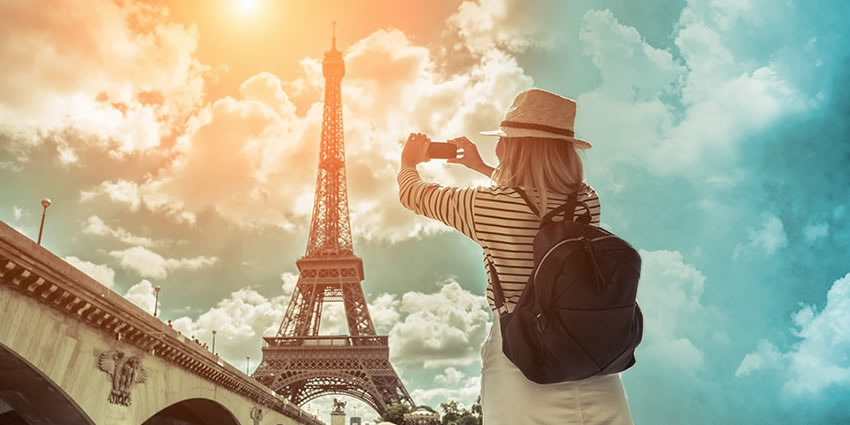 European cities attract the greatest number of international visitors each year.
Europe receives around 746 million international arrivals every year but what are the most visited cities in Europe?
The most popular European cities
This list of the most visited cities in Europe comes from a 2019 study done by Euromonitor International and each city's local tourism office. These numbers are pre-pandemic so it will undoubtedly take a few years for tourism to return to previous levels.
1. London, United Kingdom — 19.6 Million Annual Visitors
London has been the most visited city in Europe for multiple years — in fact, London is one of the most visited cities in the world.
London is one of my favorite cities and it makes an excellent first stop for many travelers for multiple reasons.
First, London has multiple major airports so flights to/from London are plentiful and they tend to have the lowest ticket prices.
Second, London is great for first-time travelers because there is no language barrier so it's a nice way to ease into visiting a foreign country.
Third, London is simply an amazing world-class city with so much to do, see, and eat.
You can easily spend a week or more here and never run out of things to experience.
2. Paris, France – 19.1 Million Annual Visitors
Paris has always been a major tourist destination — and rightfully so. In fact, Paris has been nipping at London's heels for multiple years and many experts expect Paris to be the most visited European city within a few years. Furthermore, France is the most visited country in Europe.
Personally, Paris is my favorite city (I lived there for a few years so I might be biased) because it is absolutely jam-packed with famous sights, museums, nightlife, and culture. Paris also has an excellent Metro system so getting around is quick and easy.
Additionally, Paris also boasts the highest number of vacation rental apartments along with a robust hotel and hostel inventory.
3. Istanbul, Turkey – 14.7 Million Annual Visitors
Istanbul has suffered from political instability and security concerns for quite a while but things have calmed down considerably over the past few years. This has made tourism in Instabul skyrocket and now the city is one of the most visited cities in the world.
Especially for Europeans wanting to experience Istanbul's "East meets West" vibe.
4. Rome, Italy – 10.3 Million Annual Visitors
It's no surprise that Rome is one of the most visited cities in Europe as it's widely considered the "world's second most historically, educationally and culturally interesting and beautiful city". Rome is another heavy-hitting tourism destination that can easily fill a week (or longer) visit.
Rome is also well connected to Italy's great cities and regions — making it an excellent first stop before exploring the rest of this amazing country.
5. Amsterdam, Netherlands — 8.8 Million Annual Visitors
Despite its relatively small size, Amsterdam is still a major European tourism destination thanks to its beautiful architecture, lovely canals, and liberal social policies. It's also consistently ranked one of the best places to live in Europe.
Amsterdam is certainly one of the most expensive cities in Europe — especially when it comes to accommodation (which tends to happen when small cities receive millions of visitors).
Over-tourism is a problem in Amsterdam so I recommend visiting during the off-season if you want to avoid some of the crowds.
6. Barcelona, Spain — 7 Million Annual Visitors
Barcelona finds its way onto most travel itineraries… and for good reason.
This Spanish has a vibrant food scene, a plethora of unique historic architecture, great Mediterranean weather, beautiful beaches, and some of the best nightlife in Europe (many consider it the top nightlife destination in the world).
7. Prague, Czech Republic — 6.8 Million Annual Visitors
It's cliche to say but Prague truly feels like a "fairy tale" city — if you remove most of the tourists, that is. And while Prague isn't as cheap as it once was, you can still save quite a bit compared to other cities on this list (especially on food and alcohol).
Summers do get quite busy so visit during the other times of the year if you want to escape the crowds.
8. Vienna, Austria — 6.6 Million Annual Visitors
Vienna is constantly a top contender for the most livable city in Europe so it's no surprise it's a major tourist destination. Vienna's mix of Art Nouveau, Gothic, and Baroque architecture makes it one of the most beautiful cities in the world.
And you can't visit without spending a few hours enjoying coffee and traditional desserts at the many traditional Viennese coffee houses.
9. Milan, Italy — 6.5 Million Annual Visitors
Milan is the fashion capital of Europe and the business/finance capital of Italy. It undoubtedly has a more buttoned-up vibe than the rest of Italy, and it wouldn't be my top Italian destination, but it's still a great city if you've already explored Italy's other highlights.
10. Athens, Greece — 6.3 Million Annual Visitors
Athens is often the jumping-off point to explore the famous Greek Islands but it's also the historical capital of Europe — as well as the birthplace of democracy, arts, science, and philosophy of Western civilization. And, of course, Athens is home to the Acropolis and Parthenon.
While the city is safe, Athens as a whole is kind of drab and gritty so it's not your typical "beautiful European city" that many people imagine it would be.
11. Berlin, Germany — 6.3 Million Annual Visitors
It was once famously said that "Berlin is poor but sexy."
And while Berlin isn't as cheap as it once was, it's still one of the cheapest major European cities.
Berlin continues to be one of the hottest nightlife/clubbing destinations in the world but you'll find that the city offers a ton of other cultural activities as well — including many excellent museums.
12. Moscow, Russia — 6 Million Annual Visitors
Moscow still remains a bit of a mystery to many Western visitors — especially since getting an entry visa is a bit of a bureaucratic hurdle and the long flight adds to the difficulty. But this massive city offers a lot to people looking to get off the beaten tourism path.
13. Venice, Italy — 5.6 Million Annual Visitors
The amazingly beautiful city of Venice is sinking so visit before it's too late.
Venice is another one of the small cities that suffer from over-tourism — especially since it's a popular port for giant cruise ships. However, Venice empties out at night so if you stay in the city overnight you'll be rewarded with a completely different experience.
14. Madrid, Spain — 5.6 Million Annual Visitors
Spain's capital and largest city, Madrid is a top destination for good reason — it's a lively city that's both affordable by Western European standards and boasts outstanding culture, architecture, art, and excellent nightlife.
But it's also a fairly modern city so you'll discover that much of the architecture is from the 20th century — which can sometimes be a surprise to many visitors looking for "old" Europe.
That said, it is a city overflowing with energy and old-world charm that's worth checking out.
15. Dublin, Ireland — 5.5 Million Annual Visitors
Dublin is a small yet vibrant city that has a way of charming its visitors — thanks to its friendly locals. Dublin also has a large student population and an excellent pub culture so the nightlife offers something for everyone.
The city is fairly small so it's a very manageable city to explore on foot. However, Dublin is fairly expensive (especially food and alcohol).
16. Florence, Italy — 5.1 Million Annual Visitors
Along with Rome, Florence is a must-see Italian destination and it's only a 1.5 highspeed train ride away from Rome.
And while Florence is a popular day-trip destination, it's best experienced for a few days — plus the crowds thin out at night. And you'll need a few days to take in all the city's beauty and its delicious food.
17. St Petersburg, Russia — 4.5 Million Annual Visitors
Saint Petersburg is known as the "Cultural Capital of Russia" and it's full of grandiose 18th and 19th-century architecture.
The city is also home to 221 museums including the world-famous Hermitage Museum and the Russian Museum. Saint Petersburg feels much more European than Russian (visit Moscow if you want to full "Russian" experience).
18. Brussels, Belgium — 4.3 Million Annual Visitors
Home to the European Union, Brussels is one of those cities that everyone has heard about but it doesn't have many must-see sights.
Brussels has a reputation for being somewhat boring and expensive (thanks to all the government leaders) but the city is starting to attract more of a creative class so it's slowly shaking off its stodgy image.
If nothing else, you'll have a steady supply of amazing beer. And chocolate. And fries. And waffles. And beer. And chocolate. And beer.
19. Munich, Germany — 4.2 Million Annual Visitors
Munich, the capital of Bavaria, is home to centuries-old classically German buildings and multiple museums.
Munich is also known for its annual raucous Oktoberfest. Speaking of Oktoberfest, Munich is also a beer drinker's paradise so don't forget to spend some time in one of the city's many biergartens.
20. Hamburg, Germany — 4 Million Annual Visitors
Hamburg is Germany's second-largest city. Hamburg has long been one of Europe's largest ports, and like most port cities, Hamburg is a little rough around the edges.
But Hamburg has undergone a major transformation over the past few years and it's now often considered Germany's hippest city. Now you'll find plenty of new restaurants, bars, and clubs.
21. Budapest, Hungary — 4 Million Annual Visitors
Often called the "Paris of the East," Budapest is another one of Eastern Europe's great destinations that are increasingly becoming one of Europe's most visited cities. It has elegant boulevards. It has beautiful architecture.
But it has much more grit and edge thanks to its years under communist rule. It's also affordable and one of Europe's best nightlife destinations.
22. Tallinn, Estonia — 4 Million Annual Visitors
Located between Stockholm and St. Petersburg, Tallin offers an alluring mix of Nordic and Russian cultures. Tallinn still has multiple medieval buildings (with a mix of Soviet-era buildings) and it's one of Europe's most complete walled cities.
Tallinn is one of the most popular day trips from Helsinki and thanks to a recently built cruise ship docks, Tallinn does get overrun with tourists — so staying overnight helps give you a better experience.
23. Lisbon, Portugal — 3.6 Million Annual Visitors
Lisbon is a hot destination and I suspect it will be quickly moving up in the ranks of Europe's most visited cities.
Lisbon is a laid-back city with coastal vibes that's famous for its pastel buildings, café culture, and charmingly gritty vibe.
It's also very friendly on the wallet when compared to other Western European cities — food and lodging are both priced reasonably and attractions are about average.
24. Copenhagen, Denmark — 3.2 Million Annual Visitors
You don't need to visit Copenhagen for more than a few hours to realize why the Danes are some of the happiest people in the world and why Copenhagen is one of Europe's "must-visit" destinations.
The city has so many things going for it — a mix of beautiful old and state-of-the-art architecture, a great food scene, plenty of sights and museums, tons of coffee shops, a lively craft beer scene, plenty of culture, lots of shopping, an excellent biking culture, and friendly locals.
25. Edinburgh, Scotland — 3.1 Million Annual Visitors
Edinburgh is a beautiful, youthful city in Scotland that has a magical medieval Old Town, an elegant Georgian New Town, and the impressive Edinburgh Castle. It also attracts thousands of visitors during its Edinburgh Festival each August.
It's also a very welcoming city with friendly locals and excellent Scottish pubs and bars.
26. Heraklion, Greece — 3 Million Annual Visitors
Heraklion is a port city and the capital of the Greek island of Crete. And despite its relatively high visitor numbers, most people spend little time in Heraklion because they use the city as a first stop for exploring the rest of the region.
27. Kraków, Poland — 2.9 Million Annual Visitors
Krakow is a beautiful, old-school little city in Poland that also has a reputation for being a party town thanks to its cheap prices and large university student population. And while Warsaw is the official capital of Poland, Krakow is the country's cultural and intellectual capital.
28. Warsaw, Poland — 2.8 Million Annual Visitors
Largely destroyed during WWII, Warsaw is the sprawling and rebuilt capital of Poland that is just starting to be discovered by visitors. Warsaw doesn't have a large tourism infrastructure so it takes a little more effort and planning to get the most out of your visit.
29. Frankfurt, Germany — 2.7 Million Annual Visitors
Frankfurt is a largely modern city that's more of a business-centric city than a touristic destination. And while there are some nice museums and sights, Frankfurt wouldn't be one of my top German destinations.
30. Stockholm, Sweden — 2.7 Million Annual Visitors
The beautiful city of Stockholm is easy on the eyes and rough on the wallet. Stockholm is actually a city spread over 14 islands and over those islands you'll find plenty to do. The only thing that keeps Stockholm from being a more popular city is its relatively remote location.
31. Nice, France — 2.6 Million Annual Visitors
Nice is a beautiful city in the South of France that's been a favorite summer vacation destination for Europeans for hundreds of years.
And while Southern France has a well-earned reputation for being expensive, Nice has plenty of budget-friendly options — including multiple excellent museums and easy train access to multiple seaside towns.
32. Porto, Portugal — 2.5 Million Annual Visitors
While Lisbon gets the greatest number of tourists in Portugal, the slightly shabby yet beautiful city of Porto still offers plenty to its visitors — especially when it comes to beautiful weather.
Porto is also a very affordable city so it's attracting many young chefs and people looking for great travel deals.
33. Bruges, Belgium — 2.5 Million Annual Visitors
Despite its small size, the medieval fairytale town Bruges is one of the most popular destinations in Europe — in fact, it probably gets more visitors than this list makes it seem since many people visit as a day trip.
You can easily see the city in a day but visiting overnight gives you a better (and less touristy) view of the city.
34. Reykjavik, Iceland — 2 Million Annual Visitors
Tourism to Reykjavik has exploded over the past few years and now they're getting over two million visitors each year — which is a lot for a city with a population of just over 100,000. Reykjavik is a city surrounded by incredible nature but it's also a city full of life.
It's also a city that's super expensive so it will put a hurting on your wallet.
35. Seville, Spain — 2 Million Annual Visitors
Seville is Spain's fourth-largest city and it's of the most-loved destinations in Southern Europe.
There is plenty to see and eat in this laid-back city so it's worth spending a few days exploring — but be warned at Seville is one of Europe's hottest cities in the summer so you may want to visit in the spring or fall to escape the heat.
36. Lyon, France — 1.6 Million Annual Visitors
Lyon is the food capital of France — which is saying a lot for a country famous for its food. Lyon is also a hub for art, culture, winemaking, and commerce. Lyon has many museums as well as a youthful vibe thanks to its large university population.
Many visitors also feel like Lyon is more friendly and welcoming than Paris.
37. Dubrovnik, Croatia — 1.5 Million Annual Visitors
Dubrovnik (and the rest of Croatia) hasn't traditionally been a wildly popular tourist destination but in recent years it exploded in popularity — along with higher prices.
Now the "pearl of the Adriatic" sees millions of visitors wanting to explore the walled Old Town of this beautiful city so visit in the off-season if you want to avoid the crowds.
Use these tags to read more related posts and reviews:
---
Let us know if this article was useful for you