Dominica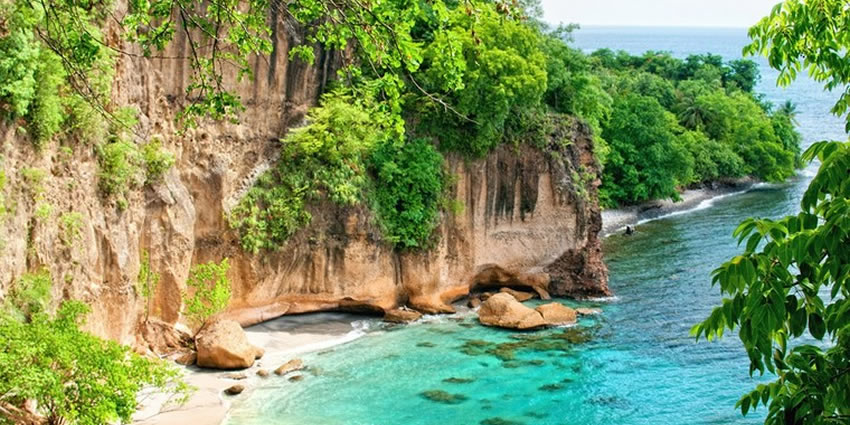 Dominica, officially the Commonwealth of Dominica, is an island country in the West Indies. The capital, Roseau, is located on the western side of the island.
It is part of the Windward Islands in the Lesser Antilles archipelago in the Caribbean Sea. The island is located near Guadeloupe to the northwest and Martinique to the south-southeast.
Its area is 750 km2 (290 sq mi), and the highest point is Morne Diablotins, at 1,447 m (4,747 ft) in elevation.
The population was 71,293 at the 2011 census. The Commonwealth of Dominica is one of the Caribbean's few republics.
The island was originally inhabited by the Kalinago and later colonised by Europeans, predominantly by the French from the 1690s to 1763.
Columbus is said to have passed the island on Sunday 3 November 1493, and the island's name is derived from the Latin for "Sunday".
Great Britain took possession in 1763 after the Seven Years' War, and it gradually established English as its official language. The island republic gained independence in 1978.
It is the youngest island in the Lesser Antilles, and in fact it is still being formed by geothermal-volcanic activity, as evidenced by the world's second-largest hot spring, called Boiling Lake.
The island has lush mountainous rainforests, and it is the home of many rare plants, animals, and bird species. There are xeric areas in some of the western coastal regions, but heavy rainfall occurs inland.
The Sisserou parrot, also known as the imperial amazon and found only on Dominica, is the island's national bird and featured on the national flag, which is one of only two national flags containing the color purple (the other being Nicaragua).
Unlike other former British colonies in the region, Dominica was never a Commonwealth realm, instead becoming a republic on independence.
Dominica is divided into 10 parishes, given below with their 2011 Census populations:
Saint Andrew Parish (9,471)
Saint David Parish (6,043)
Saint George Parish (21,241)
Saint John Parish (6,561)
Saint Joseph Parish (5,637)
Saint Luke Parish (1,668)
Saint Mark Parish (1,834)
Saint Patrick Parish (7,622)
Saint Paul Parish (9,786)
Saint Peter Parish (1,430)
Dominica is an island nation in the Caribbean Sea, the northernmost of the Windward Islands (though it is sometimes considered the southernmost of the Leeward Islands). The size of the country is about 289.5 square miles (750 km2).
Dominica is largely covered by rainforest and is home to the world's second-largest hot spring, Boiling Lake. Dominica has many waterfalls, springs, and rivers. The Calibishie area in the country's northeast has sandy beaches. Some plants and animals thought to be extinct on surrounding islands can still be found in Dominica's forests. The island has several protected areas, including Cabrits National Park, as well as 365 rivers.
Morne Trois Pitons National Park is a tropical forest blended with volcanic features. It was recognised as a World Heritage Site on 4 April 1995, a distinction it shares with four other Caribbean islands.
The Commonwealth of Dominica is engaged in a long-running dispute with Venezuela over Venezuela's territorial claims to the sea surrounding Isla Aves (literally Bird Island, but in fact called Bird Rock by Dominica authorities), a tiny islet located 140 miles (225 km) west of the island of Dominica.
There are two primary population centres: Roseau (with 14,725 inhabitants in 2011) and Portsmouth (with 4,167 inhabitants in 2011).
Dominica, known as "The Nature Island of the Caribbean" due to its spectacular, lush, and varied flora and fauna, which are protected by an extensive natural park system; the most mountainous of the Lesser Antilles, its volcanic peaks are cones of lava craters and include Boiling Lake, the second-largest, thermally active lake in the world possesses the most pristine wilderness in the Caribbean.
Originally, it was protected by sheer mountains which led the European powers to build ports and agricultural settlements on other islands. More recently, the citizens of this island have sought to preserve the natural environment by discouraging the type of high-impact tourism which has damaged nature in other parts of the Caribbean.
Dominicana visitors can find large tropical forests, including one which is on the UNESCO list of World Heritage sites, hundreds of streams, coastlines and coral reefs.
The Sisserou parrot (Amazona imperialis) is Dominica's national bird and is endemic to its mountain forests. A related species, the Jaco or red-necked parrot (A. arausiaca), is also a Dominican endemic. Both birds are rare and protected, though some forest is still threatened by logging in addition to the long-standing threat of hurricanes.
The Caribbean Sea offshore of the island of Dominica is home to many cetaceans. Most notably a group of sperm whales live in this area year-round. Other cetaceans commonly seen in the area include spinner dolphins, pantropical spotted dolphins and bottlenose dolphins. Less commonly seen animals include killer whales, false killer whales, pygmy sperm whales, dwarf sperm whales, Risso's dolphins, common dolphins, Atlantic spotted dolphins, humpback whales and Bryde's whales. This makes Dominica a destination for tourists interested in whale-watching.
The vast majority of Dominicans are of African descent. There is a growing mixed population along with a small European origin minority (descendants of French and British colonists along with some people of Irish descent) and there are small numbers of Lebanese, Syrians and Asians.
Dominica is also the only Eastern Caribbean island that still has a population of pre-Columbian native Kalinago (previously called Caribs), who were exterminated or driven from neighbouring islands.
As of 2014 there are more than 3,000 Kalinago remaining. They live in eight villages on the east coast of Dominica. This special Carib Territory (now Kalinago Territory) was granted by the British Crown in 1903.
In 1902, on 8 May, the Mount Pelée volcano on Martinique erupted destroying the city of Saint-Pierre. Refugees from Martinique arrived in boats to the southern villages of Dominica and some remained permanently on the island.
Languages
English is the official language of Dominica and is universally spoken and understood.
In addition, Dominican Creole, an Antillean Creole based on French, is widely spoken. This is due to French migration to the island starting in 1690, a majority French Creole speaking population that resided on the island, and its location between the two French-speaking departments of Martinique and Guadeloupe. Since 1979, Dominica has been a member of La Francophonie. Dominican Creole is particularly used among the older generation, which also speaks a patois language. Because of a decline in the use of Creole by the younger generation, initiatives have been set up in an effort to increase usage and promote this unique part of the nation's history and culture.
Along with Creole, a dialect known as Kokoy (or Cockoy) is spoken. It is a type of pidgin English which is a mix of Leeward Island English Creole and Dominican Creole, and is mainly spoken in the north-eastern villages of Marigot and Wesley, by the descendants of immigrants from Montserrat and Antigua.
Island Carib, also known as Igneri (Iñeri, Igñeri, Inyeri), was an Arawakan language historically spoken by the Island Caribs of the Lesser Antilles in the Caribbean. The Island Caribs lived throughout the southern Lesser Antilles such as Dominica, St Vincent and Trinidad, supposedly having conquered them from their previous inhabitants, the Igneri. Island Carib became extinct about 1920, but an offshoot survives as Garifuna, primarily in Central America.
Its name is pronounced with emphasis on the third syllable, related to its French name of Dominique. Dominica has been nicknamed the "Nature Isle of the Caribbean" for its natural environment.
Dominica's precolonial indigenous inhabitants were the Island Carib people. They had named it Wai'tu kubuli, which means "Tall is her body."
Christopher Columbus, sailing for Spain, named the island as Dominica, after the Latin term dies Dominica for Sunday, the day on which the Spanish first saw it in November 1493.
Early European contact
Spaniards first saw Dominica in November 1493.
Some Spanish colonizers settled here. But, as European explorers and settlers entered the region, indigenous refugees from surrounding islands settled Dominica and pushed out the Spanish settlers. They went to other areas that were easier to control and had more natural resources.
French colony
Spain had little success in colonising Dominica. In 1632, the French Compagnie des Îles de l'Amérique claimed it and other "Petites Antilles" for France, but no physical occupation took place. Between 1642 and 1650, French missionary Raymond Breton became the first regular European visitor to the island.
In 1660, the French and English agreed that Dominica and St. Vincent should not be settled, but left to the Carib as neutral territory. But its natural resources attracted expeditions of English and French foresters, who began harvesting timber. In 1690, the French established their first permanent settlements. French woodcutters from Martinique and Guadeloupe began to set up timber camps to supply the French islands with wood, and they gradually became permanent settlers. They brought the first enslaved Africans from West Africa to Dominique, as they called it in French.
In 1715, a revolt of "poor white" smallholders in the north of Martinique, known as La Gaoulé, caused settlers to migrate to southern Dominique, where they set up smallholdings. Meanwhile, French families and others from Guadeloupe settled in the north. In 1727, the first French commander, M. Le Grand, took charge of the island with a basic French government. Dominique formally became a colony of France, and the island was divided into districts or "quarters". The French had already developed plantation agriculture on Martinique and Guadeloupe, where they cultivated sugarcane with enslaved African workers. In Dominique they gradually developed coffee plantations. They imported so many African slaves to fill the labour demands that the population became predominantly African in ethnicity.
In 1761, during the Seven Years' War in Europe, a British expedition against Dominica led by Andrew Rollo conquered the island, along with several other Caribbean islands. In 1763, France had lost the war and ceded the island to Great Britain under the Treaty of Paris. The same year, the British established a legislative assembly, with only European colonists represented. French remained the official language, but Antillean Creole, which had developed from it, was spoken by most of the population.
In 1778 the French, with the active co-operation of the population, began the Invasion of Dominica. This was ended by the Treaty of Paris (1783), which returned the island to British control. But the island population, especially the class of free people of color, resisted British restrictions. The British retained control through French invasions in 1795 and 1805,[13] the first taking place during the period of the Haitian Revolution, which gained the independence of Haiti (formerly Saint-Domingue, France's richest Caribbean colony).
British colony
Great Britain established a small colony in 1805. It used Dominica as part of the triangular trade, by which slaves were imported and sold as labour in the islands as part of a trade that included producing and shipping sugar and coffee as commodity crops to Europe. The best documented slave plantation on the island is Hillsborough Estate, which had 71 male and 68 female slaves. The Greg family were notable: Thomas Hodgson, a brother-in-law, owned a slave ship, and Thomas Greg and his son John Greg were part-owners of sugar plantations on Dominica. In January 1814, 20 slaves absconded from Hillsborough. They were recorded as recaptured and punished with 100 lashes applied to the males and 50 for the females. The slaves reportedly said that one of their people had died in the plantation hospital, and they believed he had been poisoned.
In 1831, reflecting a liberalisation of official British racial attitudes, the Brown Privilege Bill conferred political and social rights on free blacks (mostly free people of colour, who generally were of mixed race, with African and European ancestry). With the Slavery Abolition Act of 1833, Britain ended the institution of slavery throughout its empire, except in India, where it was considered part of the culture.
With freedom came enfranchisement. In 1835, the first three men of African descent were elected to the legislative assembly of Dominica. Many slaves from the neighbouring French colonial islands of Guadeloupe and Martinique fled to Dominica. In 1838, Dominica became the first colony of the British West Indies to have an elected legislature controlled by an ethnic African majority. Most of these legislators had been free people of color and smallholders or merchants before the abolition of slavery. Their economic and social views were different from the interests of the small, wealthy English planter class. Reacting to a perceived threat to their power, the planters lobbied for more direct British rule.
In 1865, after much agitation and tension, the colonial office replaced the elective assembly with one made up of one-half members who were elected and one-half who were appointed. Planters, who were allied with colonial administrators, outmaneuvered the elected legislators on many occasions. In 1871, Dominica became part of the British Leeward Islands. The political power of the ethnic African population progressively eroded. Crown colony government was re-established in 1896. All political rights were curtailed for people of colour and blacks, who were the overwhelming majority of the population. Development aid, offered as compensation for disfranchisement, resulted in negligible improvements in conditions for most ethnic Africans.
History post-1900
In World War I, many Dominicans, mainly the sons of small farmers, volunteered to fight in Europe for the British Empire. After the war, an upsurge of political consciousness throughout the Caribbean led to the formation of the Representative Government Association. Marshaling public frustration with the lack of a voice in governing Dominica, this group won one-third of the popularly elected seats of the legislative assembly in 1924, and one-half in 1936. Shortly thereafter, Dominica was transferred from the Leeward Island Administration. During World War II, some Dominicans volunteered in British and Caribbean forces. Thousands of Free French refugees from Martinique and Guadeloupe escaped to Dominica from the Vichy-controlled French islands. They stayed in Roseau and other villages.
Until 1958, Dominica was governed as part of the British Windward Islands. Caribbean islands sought independence from 1958 to 1962, and Dominica became a province of the short-lived West Indies Federation. After the federation dissolved, in 1967 Dominica became an associated state of the United Kingdom, and formally took responsibility for its internal affairs. On 3 November 1978, the Commonwealth of Dominica was granted independence as a republic, led by Prime Minister Patrick John.
In mid-1979, political discontent led to the formation of an interim government. After the 1980 elections, it was replaced by a government led by the Dominica Freedom Party under Prime Minister Eugenia Charles. She was the Caribbean's first female prime minister. Chronic economic problems were compounded by the severe damages of hurricanes in 1979 and in 1980.
In 1981, Dominica was threatened with a takeover by mercenaries in Operation Red Dog, led by Mike Perdue and Wolfgang Droege. They tried to overthrow Charles as Prime Minister and reinstall ex-Prime Minister John in exchange for control over the country's development. The FBI was tipped off, and the ship hired to transport the mercenaries never left dock. The mercenaries lacked formal military experience or training, and most of the crew had been misled into joining by the ringleader Mike Perdue. White supremacist Don Black was also jailed for his part in the attempt, which violated US neutrality laws.
By the end of the 1980s, the economy recovered. It weakened again in the 1990s due to a decrease in banana prices.
In the January 2000 elections, the Edison James United Workers Party (UWP) was defeated by the Dominican Labour Party (DLP), led by Roosevelt P. "Rosie" Douglas. Douglas died after only a few months in office. He was replaced by Pierre Charles, who died in office in January 2004. Roosevelt Skerrit, also of the DLP, replaced Charles as Prime Minister. Under Prime Minister Skerrit's leadership, the DLP won elections in May 2005 that gave the party 12 seats in the 21-member Parliament, to the UWP's 8 seats. An independent candidate affiliated with the DLP won a seat as well. Later, the independent candidate joined the government and one UWP member crossed the aisle, making the total 14 seats for the DLP and 7 for the UWP.
In the December 2009 elections, DLP won 18 of 21 seats. UWP claimed campaign improprieties and boycotted Parliament; by-elections were conducted for two of its seats in July 2010, and the UWP again won the seats. On 17 September 2012 Eliud Thaddeus Williams was sworn in as President, replacing Dr Nicholas Liverpool who was reportedly removed from office due to ill health. On 30 September 2013, former Trade Union Leader and agitator Charles Savarin was elected President having only days before resigned as a Minister of Government.
On 18 September 2017, Dominica suffered a direct landfall from Category 5 Hurricane Maria. Early estimates of damage suggested 90% of the buildings on the island had been destroyed, with infrastructure left in ruins. The UK, France and the Netherlands set up shipping and air lifts to take aid to the island; the scale of destruction having left most people homeless and desperate.
Dominica is mostly volcanic and has few beaches; therefore, tourism has developed more slowly than on neighbouring islands.
Nevertheless, Dominica's mountains, rainforests, freshwater lakes, hot springs, waterfalls, and diving spots make it an attractive eco-tourism destination.
Cruise ship stopovers have increased following the development of modern docking and waterfront facilities in Roseau, the capital.
The volcanic nature of the island has attracted scuba divers.
Dominica is home to a wide range of people. Although it was historically occupied by several native tribes, the Arawaks (Tainos) and Carib (Kalinago) tribes occupied it at the time European settlers reached the island. "Massacre" is a name of a river dedicated to the murders of the Native villagers by English settlers. Both the French and British tried to claim the island and imported slaves from Africa for labour. The remaining Caribs now live on a 3,700-acre (15 km2) territory on the east coast of the island. They elect their own chief. This mix of cultures has produced the current culture.
Music and dance are important facets of Dominica's culture. The annual independence celebrations display a variety of traditional song and dance. Since 1997, there have also been weeks of Creole festivals, such as "Creole in the Park" and the "World Creole Music Festival".
Dominica gained prominence on the international music stage when in 1973, Gordon Henderson founded the group Exile One and an original musical genre, which he coined "Cadence-lypso". This paved the way for modern Creole music. Other musical genres include "Jing ping" and "Cadence". Jing ping features the accordion and is native to the island. Dominica's music is a melange of Haitian, Afro-Cuban, African and European traditions. Popular artists over the years include Chubby and the Midnight Groovers, Bells Combo, the Gaylords, WCK, and Triple Kay.
The 11th annual World Creole Music Festival was held in 2007, part of the island's celebration of independence from Great Britain on 3 November. A year-long reunion celebration began in January 2008, marking 30 years of independence.
Dominica is often seen as a society that is migrating from collectivism to that of individualism. The economy is a developing one that previously depended on agriculture. Signs of collectivism are evident in the small towns and villages which are spread across the island.
The famed novelist Jean Rhys was born and raised in Dominica. The island is obliquely depicted in her best-known book, Wide Sargasso Sea. Rhys's friend, the political activist and writer Phyllis Shand Allfrey, set her 1954 novel, The Orchid House, in Dominica.
Much of the Walt Disney film Pirates of the Caribbean: Dead Man's Chest (the second in the series, released on 7 July 2006), was shot on location on Dominica (though in the film it was known as "Pelegosto," a fictional island), along with some shooting for the third film in the series, At World's End (released on 2 May 2007).
Dominica is home to local artisans and traditional craftsman who cater to tourists, although not a thriving high end art scene.
Dominica's cuisine is similar to that of other Caribbean islands, particularly Jamaica, Saint Lucia and Trinidad and Tobago. Like other Commonwealth Caribbean islands, Dominicans have developed a distinct twist to their cuisine. Breakfast is an important daily meal, typically including saltfish, dried and salted codfish, and "bakes" (fried dough). Saltfish and bakes are combined for a fast food snack that can be eaten throughout the day; vendors on Dominica's streets sell these snacks to passersby, together with fried chicken, fish and fruit and yogurt "smoothies". Other breakfast meals include cornmeal porridge, which is made with fine cornmeal or polenta, milk and condensed milk and sugar to sweeten. Traditional British-influenced dishes, such as eggs, bacon and toast, are also popular, as are fried fish and plantains.
Common vegetables include plantains, tanias (a root vegetable), yams, potatoes, rice and peas. Meat and poultry typically eaten include chicken (which is very popular), beef, and fish. These are often prepared in stews with onions, carrots, garlic, ginger and herbs like thyme. The vegetables and meat are browned to create a rich dark sauce. Popular meals include rice and peas, brown stew chicken, stew beef, fried and stewed fish, and many different types of hearty fish broths and soups. These are filled with dumplings, carrots and ground provisions.
Air
There are two regional airports on the island, but no international airports. Therefore, flying to Dominica requires travelling through San Juan, Puerto Rico or other nearby islands in the Caribbean such as Martinique, Guadeloupe, or Barbados.
The primary airport, Douglas-Charles Airport (DOM), is on the northeast coast and is about a 45-minute drive from Portsmouth (1 hour from Roseau).
The second is Canefield Airport (DCF), about 15 minutes from Roseau on the southwest coast.
Douglas-Charles Airport is suitable for limited use of commercial jets because of runway length.
Douglas-Charles currently has regular service by Air Sunshine, Winair, Seaborne Airlines and LIAT using twin turboprop aircraft like the ATR & Saab 340, as well as Conviasa and Amerijet, which, using Boeing 727 Freighters, is the only airline with jet service to the republic.
A runway extension and service upgrade project began at Douglas-Charles Airport around 2006 and was finished in 2010.
In March 2013, airline American Eagle halted flights to the island citing high labour costs.
Roads
Dominica's road network runs primarily along the coastline and along river valleys.
Major roads are two-lane highways which connect the capital, Roseau, with Portsmouth (Edward Oliver Leblanc Highway) and the Douglas Charles Airport (Dr. Nicholas Liverpool Highway).
It takes about 45 minutes to drive from Portsmouth to Roseau. Private minibuses form the major public transport system.
These major roads were recently reconstructed with assistance from the People's Republic of China and the European Union.
Due to Tropical Storm Erika, several road surfaces and bridges were damaged by flooding and landslides, including on the newly completed E.O. LeBlanc (Roseau to Portsmouth) and Dr. Nicholas Liverpool Highways (Pont Cassé to Douglas Charles Airport).
Use these tags to read more related posts and reviews:
---
Let us know if this article was useful for you