Antigua and Barbuda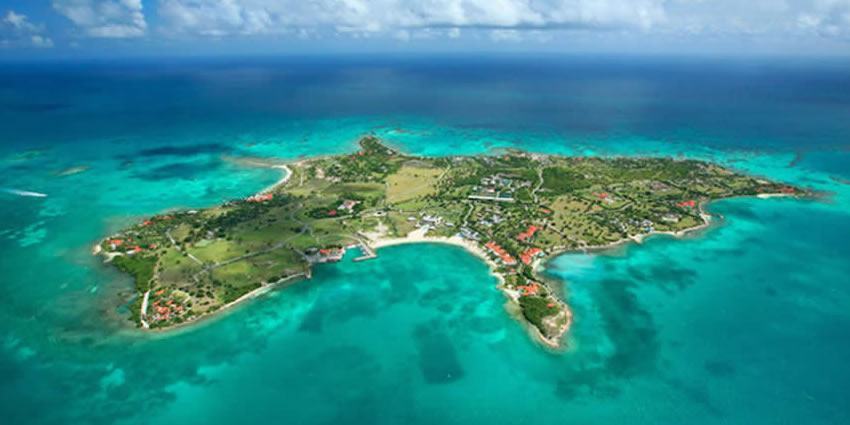 Antigua and Barbuda is small island country in the West Indies in the Americas, lying between the Caribbean Sea and the Atlantic Ocean.
Two little tropical islands of Antigua and Barbuda are located in the heart of the Caribbean about a thousand km to the east of Jamaica and half that distance from Trinidad on the coast of South America.
The capital, largest port and city is St. John's on Antigua island.
Official language: English
Sun, sea and sand. A variety of land and sea activities await the adventure-seeker. In Antigua you can zip through the rainforest on high wires, swim with stingrays, hike, bike, dive, kayak, kite surf, fish and so much more.
Water sports abound from sailing, boat cruising, water skiing, deep sea and reef fishing to scuba diving and snorkeling.
For land lovers, the island offers popular activities such as horseback riding, hiking, island safaris, painting and cooking classes, walking tours, bird-watching adventures and helicopter tours.
Many of Antigua's famed beaches rest inside the calm, protected waters on the Caribbean Sea. All of the island's beaches are open to the public.
Also be sure to discover Barbuda, Antigua's less developed sister island, known for its pristine stretch of 17-miles of pink sand beach and teeming with wildlife and rare birds. Just a 15-minute flight or two-hour ferry ride away, it offers the ultimate Robinson Crusoe-style escape. The island is home to the largest colony of Frigate birds in the western hemisphere.
In general the wettest period is between September and November.
The islands generally experience low humidity and recurrent droughts.
Days and nights are refreshingly cooled by the gentle trade winds.
Temperatures average:
From 23 °C to 29 °C in the winter.
From 25 °C to 30 °C in the summer and autumn.
The coolest period is between December and February.
Rainfall averages 990 mm per year, with the amount varying widely from season to season.
Hurricanes strike on an average of once a year.
The powerful Category 5 Hurricane Irma, on 6 September 2017, which damaged 95% of the structures on Barbuda. Some 1,800 people were evacuated to Antigua.
The country consists of two major islands – Antigua and Barbuda – and a number of smaller islands such as Great Bird, Green, Guiana, Long, Maiden and York Islands and further south, the island of Redonda.
Lying near each other in just 30 nautical miles, Antigua and Barbuda are in the middle of the Leeward Islands, part of the Lesser Antilles, roughly at 17°N of the equator.
The island of Antigua was born out of the sea by a volcano about 30 million years ago. A young island in geologic time. On the northern flank of this volcano, reefs were formed, hence the greater part of Antigua is low lying and is composed of limestone rock.
The highest point of Antigua is 1319 ft in the south-west and is called Boggy Peak, but the limestone Highlands of Barbuda rise to only 125 ft.
The area of Antigua is 108 square miles, while Barbuda is 62 square miles.
Barbuda separated from Antigua by about 28 miles. Today parts of Barbuda are geologically flooded to form interesting lagoons.
Antigua and Barbuda both are generally low-lying islands whose terrain has been influenced more by limestone formations than volcanic activity. The highest point on Antigua is Mount Obama (formerly Boggy Peak), the remnant of a volcanic crater rising 402 metres.
The shorelines of both islands are greatly indented with beaches, lagoons, and natural harbours. The islands are rimmed by reefs and shoals.
There are few streams as rainfall is slight. Both islands lack adequate amounts of fresh groundwater.
The sandy soil on much of the islands has only scrub vegetation. Some parts of Antigua are more fertile–most notably the central plain–due to the volcanic ash in the soil. These areas support some tropical vegetation and agricultural uses.
The planting of acacia, mahogany, and red and white cedar on Antigua has led to as much as 11% of the land becoming forested, helping to conserve the soil and water.
Today parts of Barbuda are geologically flooded to form interesting lagoons.
Here may be seen the largest breeding and nesting colony of the Magnificent Frigate Bird in the world.
Barbuda supports a tremendous diversity of native habitats, as yet unthreatened by development. Reef-fringed Barbuda may be one of the best kept ecological secrets in the West Indies. Her rugged scenery, beautiful beaches, (one at least 12 miles long), lagoons and abundant wildlife may be a resource as valuable as its fisheries.
The population of Antigua island is approaching 80 000.
Barbuda island is about 1300.
Antigua has a population of 100,963, mostly made up of people of West African, British, and Madeiran descent.
Languages
English is the official language. The Barbudan accent is slightly different from the Antiguan.
In the years before Antigua and Barbuda's independence, Standard English was widely spoken in preference to Antiguan Creole.
Generally, the upper and middle classes shun Antiguan Creole.
The educational system dissuades the use of Antiguan Creole and instruction is done in Standard (British) English.
Many of the words used in the Antiguan dialect are derived from British as well as African languages. This can be easily seen in phrases such as: "Ent it?" meaning "Ain't it?" which is itself dialectal and means "Isn't it?".
Common island proverbs can often be traced to Africa.
Spanish is spoken by around 10,000 inhabitants.
The island of Antigua was originally called Waladli (which has since been changed to Wadadli by modern Antiguans), by Arawaks and is locally known by that name today. The name is very close to the Amerindian word for oil, which was 'wadli'.
Caribs possibly called it Wa'omoni. The Dominican Caribs had few reefs on which to collect natural resources, whereas Antigua had many, so these prehistoric peoples may have come to Antigua to collect shark and other oils found in a reef environment. These oils would have been used for lighting and medicinal purposes.
According to Ferdinand Columbus, the son of Christopher, the earlier name for Antigua used by other Arawakan-speaking peoples was Yarumaqui. The meaning may be derived from the Yaruma, a plant from which canoes and rafts were made, and 'qui', an island. This plant no longer grows on Antigua, but is common on the surrounding wetter islands.
Legend has it that when Columbus was near Redonda on November 11th 1493, he sighted the island and named it 'Santa Maria de la Antigua', supposedly after a chapel dedicated to a famous miracle-working virgin in Seville Cathedral, Spain.
Antigua means 'ancient' in Spanish. Barbuda is Spanish for "bearded".
An alternative explanation comes from a writer of 1756, a sailor of HMS Blandford at the Antigua Navy Yard, who claimed the name Antigua was given by Columbus as 'anti-aguo', signifying no water or an enemy to water. The truth has sadly been lost to time.
National Symbols
The national bird is the frigate bird, and the national tree is the Talipariti elatum (Blue Mahoe tree).
Antigua was first settled by archaic age hunter-gatherer Amerindians called the Ciboney. Carbon dating has established the earliest settlements started around 3100 BC. They were succeeded by the ceramic age pre-Columbian Arawak-speaking Saladoid people who migrated from the lower Orinoco River.
The Arawaks introduced agriculture, raising, among other crops, the famous Antigua black pineapple (Moris cultivar of Ananas comosus), corn, sweet potatoes, chiles, guava, tobacco, and cotton.
The indigenous West Indians made excellent seagoing vessels which they used to sail around on the Atlantic and the Caribbean. As a result, Caribs and Arawaks were able to colonize much of South America and the Caribbean Islands. Their descendants still live there, notably in Brazil, Venezuela, and Colombia.
Most Arawaks left Antigua around 1100 AD; those who remained were later raided by the Caribs. According to the Catholic Encyclopedia, the Caribs' superior weapons and seafaring prowess allowed them to defeat most of the West Indian Arawak nations, enslaving some and possibly cannibalising others.
Legend has it that when Columbus was near Redonda on November 11th 1493, he sighted the island and named it 'Santa Maria de la Antigua'. Columbus never actually landed on the island.
The Catholic Encyclopedia makes it clear that the European invaders had difficulty differentiating between the various groups of the native peoples they encountered. As a result, the number and types of ethnic/tribal groups in existence at that time may have been much more varied and numerous than just the two mentioned in this article.
European and African diseases, malnutrition, and slavery eventually killed most of the Caribbean's native population. Smallpox was probably the greatest killer. Some historians believe that the psychological stress of slavery may also have played a part in the massive number of deaths amongst enslaved natives. Others believe the reportedly abundant but starchy, low-protein diet may have contributed to their severe malnutrition as they were used to a diet fortified with protein from the sea.
The Spaniards did not colonise Antigua because it lacked fresh water but not aggressive Caribs.
The English settled on Antigua in 1632; Barbuda island was first colonized in 1678. Christopher Codrington settled on Barbuda in 1684. Slavery, established to run sugar plantations around 1684, was abolished in 1834. The British ruled from 1632 to 1981, with a brief French interlude in 1666.
The islands became an independent state within the Commonwealth of Nations on 1 November 1981, with Elizabeth II as the first Queen of Antigua and Barbuda.
Most of Barbuda was devastated in early September 2017 by Hurricane Irma, which brought winds with speeds reaching 295 km/h. The storm damaged or destroyed 95% of the island's buildings and infrastructure, leaving Barbuda "barely habitable". Nearly everyone on the island was evacuated to Antigua.
The culture is predominantly a mixture of West African and British cultural influences.
Cricket is the national sport. Other popular sports include football, boat racing and surfing.
Antigua Sailing Week attracts locals and visitors from all over the world.
Calypso and soca music, both originating primarily out of Trinidad, are important in Antigua and Barbuda.
Festivals
The national Carnival held each August commemorates the abolition of slavery in the British West Indies, although on some islands, Carnival may celebrate the coming of Lent. Its festive pageants, shows, contests and other activities are a major tourist attraction.
Corn and sweet potatoes play an important role in Antiguan cuisine. For example, a popular Antiguan dish, Dukuna is a sweet, steamed dumpling made from grated sweet potatoes, flour and spices.
One of the Antiguan staple foods, fungi, is a cooked paste made of cornmeal and water.
Visitors to Antigua will find a varied and interesting choice of dining spots on the island from first-class, gourmet restaurants as fine as you would expect to find anywhere in the world, to colourful waterfront cafés, beach bars and fast-food outlets.
Whether you are simply ravenous for a burger, adventurous enough to try some local fare or in the mood for some romance, Antigua and Barbuda has a restaurant for you.
Local fine cuisine is an exciting blend of national and international dishes served with a Caribbean flair and it reflects the islands' international status.
Over 100 restaurants can be found in Antigua offering delicious cuisine from exotic, local dishes to West Indian, Italian, French, Chinese and Swiss-German fare.
Barbuda island is famous for impeccably-fresh seafood, and an opportunity to dine in local homes and village shops in Barbuda makes the visitor experience colourful and authentic, in keeping with the island's natural surroundings.
Antigua and Barbuda's small size makes it great for exploration.
Antigua is 108 square miles, making it easy for visitors to get from point A to point B in 45 minutes or less.
For a real feel for the island and a bit of adventure, jump on a bus at the bus stop or head to the East or West Bus station for a bus ride that will take you through charming villages and to the island's beaches or historical sites and natural attractions.
Antigua and Barbuda's transport systems include both public and privately run services. Roads in the country are steep, winding, unpaved, and full of potholes.
Volcanic ash which sometimes covers roads can make them slippery.
Public transportation vehicles contain the letters "BUS" for buses or "TX" for taxis on their yellow licence plates.
The government regulates taxi service, setting fixed fares rather than using a metered system. Taxi cabs are supposed to keep a copy of the rates inside the vehicle.
On Antigua, taxis are easily found, particularly at the airport and at major hotels. Many taxi drivers also will act as tour guides.
Buses operate from 5:30 a.m. to 6:00 p.m. daily on Antigua, running between the capital city, St. John's, and various villages.
However, buses do not stop at the airport or the northern tourist area. Although departure times are often left up to the driver, buses generally follow a set schedule. Most buses have their routes posted in the front windows, and they're usually privately owned mini-vans seating about 15 people.
St. John's has two bus stations, the East Bus Station near the Botanical Gardens on Independence Ave and another one on Market St. near the Central Market.
Several buses are also available on Barbuda island.
Tourists are allowed to rent cars, provided they have a valid driver's license from their home country. They must first purchase a temporary driver's licence, which can often be arranged through rental agencies.
Driving is on the left-hand side. The speed limit is set at 40 mph, but it isn't well-enforced. Because there are few traffic signs, driving in unfamiliar areas can be confusing.
Ports & Habours
Several ports and harbours provide docking for cruise ships, sailboats, yachts, and other boats.
All boats are required to enter in Antigua before continuing to Barbuda, and they must obtain a permit from the Port Authority to do so.
Fees apply both for entering and docking in the country.
The main port is at St. John's, receiving cruise ships and the Barbuda Express. The Barbuda Express travels between St. John's and Barbuda five days a week.
Cruise ships also dock at Heritage Quay.
English Harbour, the site of Nelson's Dockyard, began as an important port on Antigua centuries ago.
Other ports and harbours include Jolly Harbour, Deepwater Harbour, High Point Crabbs Peninsula, and Codrington (Barbuda).
Airports
The country's major airport is V. C. Bird International Airport, which serves both international and local carriers.
Located near St. John's on Antigua's northern coast, all commercial flights to the country first enter at this airport. With its recently built terminal building, constructed in 1981, its facilities are better than many airports in the Caribbean.
After arriving at the airport, travellers can take chartered flights or boats to Barbuda or other Caribbean destinations.
With direct flights and easy connections from all our main source markets in the US, Canada, UK, Europe and the Caribbean, you will find yourself in the picturesque Caribbean twin islands of Antigua and Barbuda, in no time.
There are many direct flight options to get to Antigua from the USA, UK, Canada, and other Caribbean islands.
Flights from Carribean
Anguilla (AXA)
Barbados (BGI)
Dominican Republic (SDQ)
Dominica (DOM)
Guadeloupe (PTP)
Nevis (NEV)
Puerto Rico (SJU)
St. Barths (SBH)
St. Kitts (SKB)
St. Lucia (SLU)
St. Maarten (SXM)
St. Thomas (STT)
St. Vincent(SVD)
Tortola (EIS)
Trinidad (POS)
Flights from USA
Atlanta, Georgia, USA (ATL)
Charlotte, North Carolina, USA (CLT)
Miami, USA (MIA)
Montreal, Canada (YUL)
New York, USA (JFK)
Newark, New Jersey, USA (EWR)
Providenciales, Turks and Caicos (PLS)
San Juan, Puerto Rico (SJU)
Toronto, Canada (YYZ)
Flights from UK & Europe
Frankfurt, Germany (FRA)
London, UK (LGW)
Manchester, UK (MAN)
Milan, Italy (MXP), can only be booked via Edenviaggi at edenviaggi.it
Railways
There were formerly around 80 km of narrowgauge railways for sugarcane plantations. These are no longer used.
Use these tags to read more related posts and reviews:
---
Let us know if this article was useful for you