Huacachina Village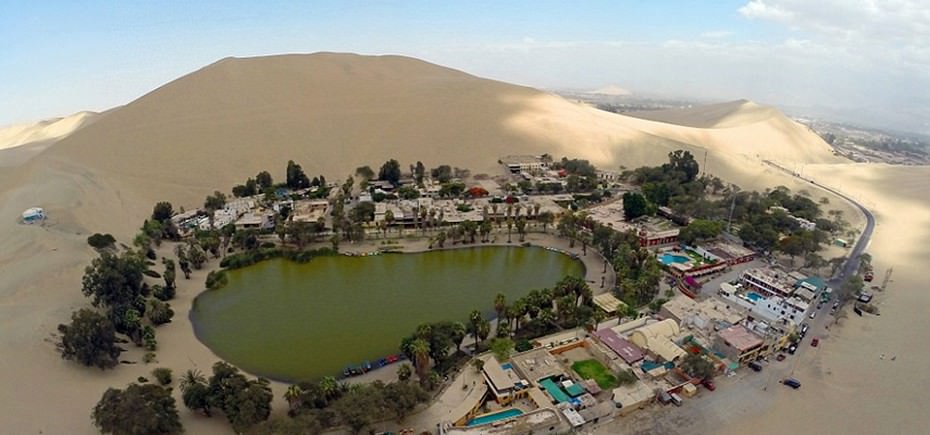 Huacachina is a village in southwestern Peru, built around a small oasis surrounded by sand dunes. It is in the Ica Province, about five kilometers from the city of Ica in the Ica District. The oasis features on the back of the 50 Nuevo Sol note. Huacachina has a permanent population of around 100 although it hosts many tens of thousands of tourists each year.
Huacachina is built around a small natural lake in the desert. Called the "oasis of America" and it serves as a resort for local families from the nearby city of Ica, and increasingly as an attraction for tourists drawn by the sports of sandboarding on sand dunes that stretch several hundred feet high. The cerro blanco sand dune, estimated to rise 2078 meters above sea level and measuring 1176 meters from base to summit has been called the world's tallest sand dune and serves as a popular tourist destination on its own. Other popular activities include dune buggy rides on buggies known locally as areneros.
According to local legends the water and mud of the area is supposed to have curative powers and both locals and tourists often bath in the waters or plaster themselves with the mud in an attempt to cure ailments such as arthritis, rheumatism, asthma and bronchitis.
Legend holds that the lagoon was created when a beautiful native princess removed her clothes to bath, but looking into a mirror, she saw a male hunter approaching her from behind. Startled at the intrusion, she fled the area leaving behind her mirror which turned into a lake. Other versions hold that she fled, leaving the pool of water she had been bathing in to become the lagoon. The folds of her mantle, streaming behind her as she ran, became the surrounding sand dunes. And the woman herself is rumored to still live in the oasis as a mermaid.
The lagoon at the oasis
Water stopped seeping into the lake in the 1980's and this has now started to become a threat to the lagoon. Recently private landowners near the oasis have installed wells, which has reduced the level of water in the oasis. To compensate for this water loss, and preserve the oasis as an aesthetically pleasing destination for tourists, a group of ten businessmen devised a plan to pump water from a nearby farm into the lagoon. The actual process of artificially pumping water into the oasis began on April 2, 2015 and since then more than 73,000 cubic meters of water has been pumped into the lagoon raising the height of the water by as much as 3 meters. The governor of the region was highly appreciative of the effort. It was announced in 2016 that the Peruvian scientist Marino Morikawa, who created a nanobubble system to decontaminate lake El Cascajo, will be given the project of restoring the Huacachina lagoon.
Use these tags to read more related posts and reviews:
---
Let us know if this article was useful for you