Onekotan Island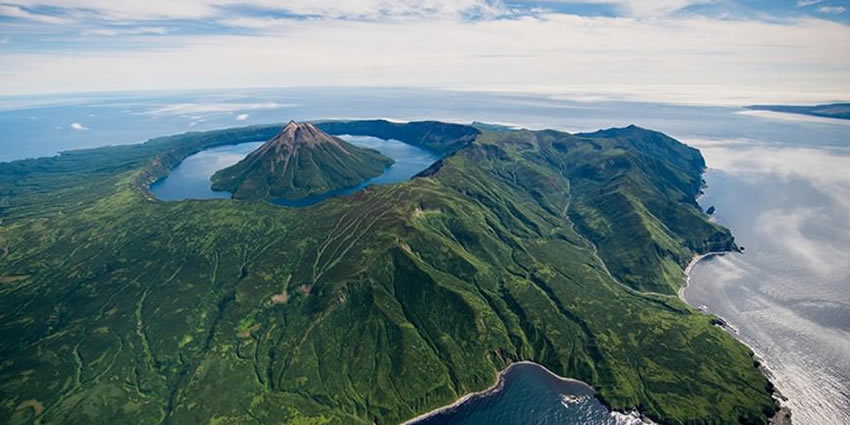 This small "island" in the middle of the "lake" is a volcano inside a lake situated in another volcano crater on Onekotan Island.
Onekotan Island is an uninhabited volcanic island located near the northern end of the Kuril Islands chain in the Sea of Okhotsk in the northwest Pacific Ocean. Its name is derived from the Ainu language for "large village".
The Onekotan Island is roughly rectangular, with a length of 42.5 kilometers, and a width ranging from 11 kilometers to 17 kilometers. It has an area of 425 km².
The island consists of two stratovolcanos connected by a relatively flat isthmus.
Krenitsyn with a height of 1,325 meters is the prominent caldera at the southern end of the island.
This volcano was named after Captain Pyotr Krenitsyn of the Imperial Russian Navy. The mountain rises from a depth of from 600 to 900 meters, and contains a deep central caldera lake, called Tao-Rusyr Caldera. The central peak of this "island within the island" is actually the highest point on Onekotan Island
Nemo with a height of 1,019 meters is the peak to the north.
It has two nested subsidiary calderas, with the cone of Nemo Peak rising in the southwest end of the youngest caldera and a crescent-shaped crater lake partially filling the northeast part.
Onekotan Island is separated from the neighboring islands by the Fourth Kuril Strait, Yevreinov Strait, and Krenitsyn Strait. The neighboring islands are Makanrushi Island, with an 1170 meters volcanic peak, to the northwest of Onekotan Island; and Kharimkotan Island, with a 1210 meter high volcano, to the south.
Onekotan still has an active volcano with the most recent eruption, in 1952, forming a small lava dome on the island's coast.
There are chars in Lake Chyornoye, one of the two lakes on Onekotan, located at the northern end of the island.
The Onekotan Island, with a number of shallow bays and sandy beaching providing landing points, was inhabited by the Ainu prior to European contact. It appears on an official map showing the territories of Matsumae Domain, a feudal domain of Edo period Japan dated 1644, and these holdings were officially confirmed by the Tokugawa shogunate in 1715.
Subsequently, claimed by the Empire of Russia, sovereignty was initially passed to Russia under the terms of the Treaty of Shimoda but was returned to the Empire of Japan per the Treaty of Saint Petersburg (1875) along with the rest of the Kuril Islands.
The island was formerly administered as part of the Shimushu District of Nemuro Subprefecture of Hokkaidō. After World War II, the island came under the control of the Soviet Union and is now administered as part of the Sakhalin Oblast of the Russian Federation.
Use these tags to read more related posts and reviews:
---
Let us know if this article was useful for you