The most visited cities in the world
Whether you're a casual vacationer, travel blogger, or a company involved in the travel industry, it benefits you to study the most visited cities in the world. You can check off your "hottest destinations" and "famous cities" lists, and gain valuable insight into what kind of experiences people seek, and where they find them.
A study by Mastercard has yielded the Global Destinations Cities Index ranks cities based on total international overnight visitor arrivals and cross-border spending. By understanding international travel patterns and studying how it affects urban economies, the index can also predict visitor growth for the following year.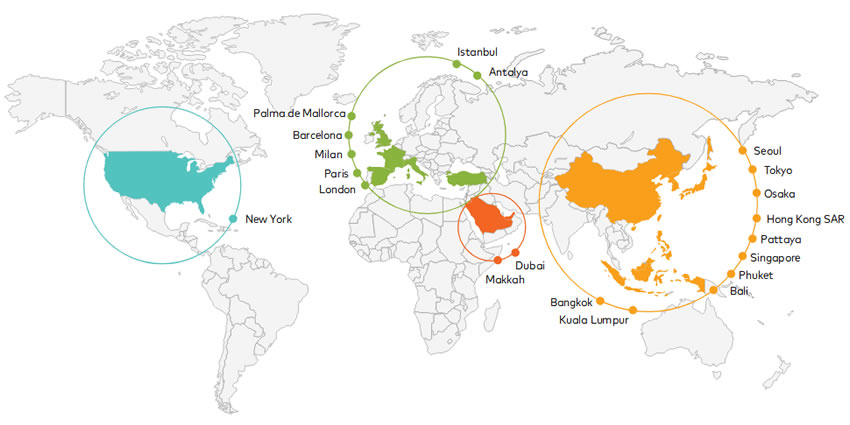 Mastercard's Global Destinations Cities Index
The review puts Bangkok as the most visited city in the world, with approximately 22 million international visitors. More detailed studies reveal visitor patterns, such as an average of 4.7 nights stay and average spending of USD $173 daily.
The famous Bali is also on the charts at the 19th spot, totaling 8.26 million international visitors. Its diverse regions and moody aesthetics prove to be popular among social media users; search for Bali on Instagram and you'll be flooded with stunning photos.
Paris, a solid holiday destination, continues to lead alongside Bangkok and London at the 2nd place. This stresses how visitors seek cities that offer business opportunities, varied attractions, and distinct cultures.
With 17.4 million international visitors, Paris is expected to host similar numbers in the coming year.
The World's Most Visited Cities
The differing charm points of these cities prove that people are no longer just following trends, but set them by seeking the fit. Top tourist destinations are those that offer diversity in attractions and environment.
This is also a confirmed trend we noticed in the most visited countries in the world list. From slow and romantic to fast-paced and sleek, the world's most visited cities have their own distinct pace and color.
Business ventures and growth opportunities aside, these cities gained their title of the most visited cities in the world due to their strong local culture and variety of attractions.
This list of the world's most visited cities has shown that travelers choose their destinations based on what unique experiences they can give them, as opposed to spending potential or first-world comforts.
Diverse geography is a plus too.
The most visited countries in the world list confirm this observation.
Bali, for instance, is trending for its choice of jungle stay, seaside resorts, and city dwellings. Similarly, the sharp contrast between metropolitan Istanbul and Dubai versus their desert settings offers one-of-a-kind sights.
The trend carries over to more urban cities as well; Bangkok is a visual cacophony of golden temples, unusual floating markets, sleek shopping malls, and old villages. London and Paris offer neighborhoods with distinctive styles.
Use these tags to read more related posts and reviews:
---
Let us know if this article was useful for you